High-Performance Surface Finishing Machine Manufacturer from China
Creates a refined and subtle texture
These machines are used everywhere from car parts to machinery, to medical devices and turbines
Does not damage or wear from high-density tumbling media
Chemicals help in creating a consistent texture

Inovatec Machinery Your Best Isotropic Superfinishing Machine Manufacturer in China
Isotropic Superfinishing Machines also called REM Finishing Machines. They are experts at the REM and ISF super finishing processes. They achieve a microscopically textured surface, also known as a low Ra surface. This is created with a blend of chemicals, high-density ceramics, and vibratory finishing machines. This process is also called "chemically-accelerated vibratory finishing". The process uses an active chemical to achieve the final result.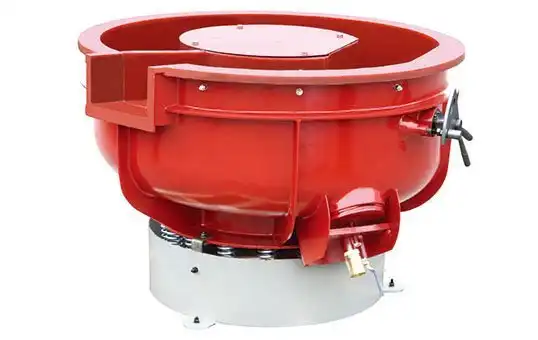 The vibratory finishing machine is perfect from medium-sized media or parts. The machine does everything from deburring media, laser cutting, and descaling plastics. To add, it has a separate option for the REM process.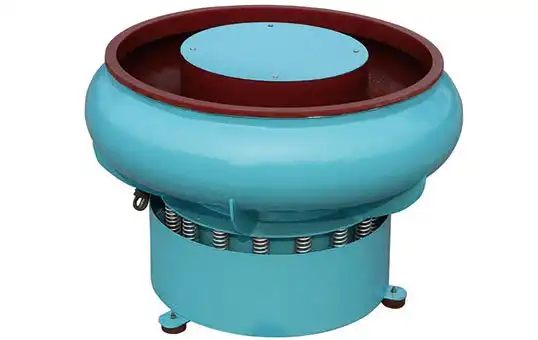 Unlike the previous machine, this works best for larger parts and pieces of media. And like the previous machine, it can also deburr, do laser cutting, and descale plastics. However, do not confide the vibratory burnishing machine with a vibratory tumbling machine. They both sound similar but have very different functions. This Inovatec machine suits every polishing job that you may have.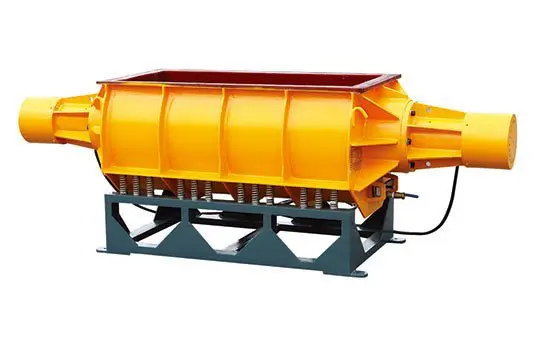 This finishing machine has vibratory tubs, which are made for long, pipe-like media. They look pretty similar to the Inovatec TVB(B) machines. The trough vibratory finishing machine is awesome for heavier pieces. However, this model allows for more detail on parts like engine housing and exhaust pipes.
This is a very effective machine if you want to smooth out a part's surface in a limited amount of time. They also have an automatic feature that unloads the piece for you. So, no assistance needed! To make things even easier, the machine comes in many sizes. You can process jewellery in here as well as large gears.
Isotropic Superfinishing Media
Inovatec supplied high density tumbling media for the  micro finishing process. The high-density finishing media is available in big and small sizes. The most popular shapes are a triangle, cylinder, and wedge.

China Leading Isotropic Superfinishing Machinery Manufacturer & Supplier
Gets rid of any rubbing, sound, and vibration caused by media
Finishes and polishes the surface and cleans out the product—all in one go
Improves the quality of life of the product and prevents it from wear and tear for the future
Rem polishing transmission gears
Frequently Asked Question
What is the MOQ of Isotropic Superfininshing Machine?
The Least order quantity is 1 pcs.
How do you make the packaging?
We make a wooden box to protect the rem finishing equipment during the sea shipment process.
What the difference between REM finishing and Isotropic finishing?
They have the same meaning.
What media you use for isotropic finishing?
We use non-abrasive high density tumbling media. This media remove the oxidation layer from the acidic chemicals.
What chemicals do you use for isotropic super finishing?
We use 2 types of chemicals. The isotropic tribo finishing process is a 2-steps process. The first step is corrosion process which cut down the peaks by chemical erode. After 1-2 hours tumbling when the surface becomes smooth, we flush the acidic chemicals away and adds a mild washing chemical.

Isotropic Superfinishing Machine
The REM engineering process used active chemicals to polish a piece. These chemicals corrode grey staining in the product. As a result, you end up with a smooth surface of 0.02 μm Ra.
The final result has a smooth and consistent surface. To add, the superfinishing process improves the overall appearance and life of the product.
The final parts will have a longer shelf life, will be resistant to wear and tear, and will also be resistant to corrosion.
Isotropic superfinishing can occur in many types of machines. These include a bowl vibratory finishing machine, a tub vibratory finishing machine, and a centrifugal barrel finishing machine.
REM finishing can be applied to many types of equipment such as bearings, automotive engine parts, aerospace turbine blades, etc.
Since these parts are of high value, they are all processed in a different chamber.
If you're looking for finishing and polishing of the highest value, Inovatec Machinery is your go-to destination.
The Isotropic Superfinishing Machines also have other cool features:
Get rid of any rubbing, sound, and vibration caused by rem polishing media
Increase the shelf life of the part
Reduce the temperature at which the parts have to operate
Make the parts perform better
Give the parts a better fatigue strength
Lower the maintenance needed for the parts
Gives the parts a better loading weight
Inovatec Machinery has been manufacturing mass finishing machines from the past 2 decades.
They aim to provide their customers with parts that have the desired surface texture and one that's cost-efficient.
If someone has a part that they believe would improve surface quality, they are more than welcome to send it to them.
They process it free of cost and will ship it back to you for review.
Contact them ASAP and get an instant quote!
Isotropic Superfinishing Machines FAQ Guide
1. What is an Isotropic Superfinishing Machine?
Isotropic Superfinishing Machines use a REM process to improve the surface texture of a part. This results in a surface texture that's as low as 0.02 μm Ra.
This process combines a heavy-duty superfinishing machine with active chemicals. However, these chemicals are completely non-toxic. They are safe for humans and the environment.
The machines use media that is high-density and not harsh. The final workpiece is of 0.25 µm or, of a minimum of 10 µin.
https://youtu.be/UmZcQGHCVKM
2. What are the components of an Isotropic Superfinishing Machine?
Isotropic Superfinishing Machines look very much like vibratory finishing machines.
However, Isotropic Superfinishing Machines give their parts a very distinctive result.
The machine consists of:
The Machine – The machine includes the tub (also referred to as the chamber), the motor, as well as a few other parts that play a huge role in how the machine works.
The Compound – The compound is either a liquid of a solid substance that is fed into the machine.
This substance protects the media from corroding.
Also, this chemical compound helps the parts or the media from getting that desired result.
The Media – This is a substance that moves against the workpiece inside of the machine.
What the media does is essentially rub against the parts. This constant friction smooths out the parts' surface.
The type of media put in the machine varies by the result that you wish to see.
3. How does an Isotropic Superfinishing Machine work?
The Isotropic Superfinishing Machine is a chemical-centred process using vibratory mass finishing.
The machine makes use of vibratory technology and combines it with highly-dense media. This achieves a surface that is super finished.
Isotropic Machines can create a surface texture of 1.02 μm Ra.
First, you put the workpiece or the part inside of the tub.
Possible workpieces include jewellery, pinions, bearings, and gears.
The chemical process essentially has two steps.
The process starts with chemicals. These chemicals react with the workpiece and softly coat them with the chemical.
Once the machine runs, the workpiece is stripped off its coating.
As a result, we have a raw and untouched metal.
This raw metal churns and refines so that it has a micro-textured surface. Next, you will notice that a chemical is released. This has a soapy consistency.
This chemical goes through a neutralization reaction. As a result, it gets rid of any acids that still might be present of the piece's surface.
Lastly, you have a final product that has a smooth, non-harsh surface texture.
4. What functionalities does an Isotropic Superfinishing Machine offer?
An Isotropic Superfinishing Machine improves the life of the finished product. It also gives it a better surface texture.
In other words, it does polishing, cleaning, deburring, etc.
Polishing/Burnishing:
This process makes the final product have a shiny surface.
Using the correct form of media will get you this result.
Deburring:
This is perhaps the most popular way to use this machine.
This process gets rid of harsh and pointy edges on a workpiece. For example, smoothing a pointed edge to a curved edge.
5. In what way is an Isotropic Superfinishing Machine different from other mass finishing Machine processes?
When metal parts are used for their function, there is the friction caused by the impact. This causes the metal to lose its quality.
More importantly, this reduces the life of the said metal part.
In aerospace gears, metal pieces need to have high fatigue. If they don't, they are not efficient enough for the job.
By superfinishing, you can reduce the wear and tear of a product.
Churning and grinding is a process done by humans for decades. It is the best way to refine an object.
After a mass manufacturing process, the final surface is about 16 Ra (16 microinches).
However, a superfinishing process will reduce this texture to as low as 2 Ra.
As a result, the final product will have a significantly longer life. The process improves a part's life to up to 300%.
This happens because the process reduces the friction caused by the product.
6. What type of workpieces are Isotropic Superfinishing Machines best for?
Isotropic Superfinishing Machines are commonly recognized for their special results.
It is why they are the go-to machines for refining metal.
Some examples of these workpieces are gears, shafts, turbine blades, etc.
7. What are the industrial applications of an Isotropic Superfinishing Machine?
Isotropic Superfinishing Machines are super adaptable in industrial environments.
Industries that value the importance of surface texture (Ra) tend to use these machines.
For example:
Aerospace and Defense: In aerospace, the strength of metal has much importance.
So, manufacturers for this industry use Isotropic Superfinishing Machines to meet the standards.
The parts that mostly go through his process are turbine blades, engines, and much, much more.
Automotive: The automotive industry is another industry that makes good use of these machines.
Why? Well, automotive parts are used every single day and go through a lot of wear.
The automotive industry uses Superfinishing Machines to polish and refine gears polishing, engine parts, etc.
Medical: Customers in the medical industry require products that are of the highest efficiency. It is because they have such complex purposes.
The machine can simply refine surgical tools made of stainless steel, titanium, and cobalt chrome.
The machine is further used for dentistry parts.
Earthmoving Machinery
Hydraulics
Pneumatics
8. What are the necessary maintenance tips for an Isotropic Superfinishing Machine?
If you want the machine you keep providing with high-quality results, it is crucial to take good care of it.
Here's how you can do it:
Restore the Media Level:
First and foremost, the media level of the machine should never lower.
A lot of users do this on purpose to save money or do more work at once.
However, by doing this, you are jeopardizing the time it takes to complete the process. You may also cause damage to the parts, etc.
Check the Vibratory Bowl or Tub:
The vibrations are essential in refining the workpiece.
Make sure that there are no holes in the tub or the chamber.
Don't be Tempted to Put in Too Many Workpieces:
Never put in an unnecessary amount of workpieces.
This can result in friction between the pieces, which can damage them.
Before you use the machine, always read the manual that comes with it.
9. Can vintage engine parts be isotropically super finished?
Yes, they absolutely can.
If you were to super finish these parts, they would have a natural-looking shine and quality to them.
10. What is REM in Isotropic Superfinishing?
REM is a specific treatment used by machines to polish or super finish a product.
This result is achieved only when a superfinishing machine is used properly.
11. How much material does an Isotropic Superfinishing Machine remove during processing?
Not much.
The material lost during a surface finishing process can be calculated in microns (39.37 millionths of an inch).
12. Are there side effects to workpieces that are super finished with an Isotropic Superfinishing Machine?
No, there isn't; as long as the machine is used properly.
13. What are the most appropriate media materials for Isotropic Superfinishing Machines?
These machines always use non-abrasive media to achieve the desired result.
The most commonly used media is porcelain media and highly-dense media.
To add, the final result may have many types of shapes. For example, pyramids, spheres, cubes, and cylinders.
14. What are the technical merits of a Vibratory Wheel Polishing Machine?
Lesser Friction
Isotropic Machines refine a product to lessen its Roughness average (Ra).
The specified number, however, can depend on the type of machine being used.
But they all do the same job: increase the life and resistance of a product.
How does this happen? Because the lower the friction, the lesser a product will wear out. Thus, resulting in longer life.
Corrosion Resistance
Isotropic Machines reduce micro-dents, notches, or "peaks" of a part.
As a result, the final piece has greater resistance to corrosion from metals and other materials.
The final piece will also have a reduced number of imperfections.
Polished Finish
The final product is strong, resistant, and will also have a sheen to it.
Once the visual defects are removed, the final piece is polished by the machine to look more attractive.
15. Honing vs Lapping in Isotropic Superfinishing
Honing is a very specific process. It creates a uniform surface texture.
It is especially important for a shape's geometry. However, it may also reduce visual defects.
Lapping is a different process. It's a process in which two surfaces rub against each other and have an abrasive material between them.
This process refines the surface in a surprisingly short amount of time.