Polish Your Gun Barrels with Ease Using China's Finest Gun Barrel Polishing Machines
Refine the surfaces of your gun barrels uniformly and easily
Polish your gun barrels in batches – saves time
Polish all types of gun barrels rapidly and effectively
Make your gun barrels more sturdy and appealing

Inovatec Machinery Rapid and Easy Automatic Surface Refining Solution - Inovatec Machinery Gun Barrel Polishing Machines
Precision polishing is paramount when it comes to gun barrel polishing. You have to use the best mass polishing equipment for the most outstanding results.
As you'll be seeing later in this article, these gun barrels precision polishing machines are purely Inovatec Machinery engineering. We've been in successful business for over two decades now – we can manufacture any mass finishing machine that you desire.
This machine is ideal for polishing gun barrels. It has a sturdy rectangular container which can comfortably polish your gun's barrel.
When you order this machine from Inovatec, you can choose to have the standard version or the customized version. It is a suitable gun barrel polishing machine as it does not encourage part-to-part contacts, leading to damages.
This machine is a high-energy finishing machine – meaning its precision in polishing gun barrels is on-point. It polishes rapidly and effectively. It is also super-efficient.
Although it is a little bit more expensive than the trough vibratory tumbler, the extra cost is worth the machine. It finishes way better and way faster than the vibratory tumbler. It also doesn't limit you to one finishing style – you can choose to either wet polish or dry polish.
Abrasives for Polishing Your Gun Barrels
As you read earlier on, gun barrels are made using different materials. For heavy metals, you need to use highly aggressive barrels. You can also use lesser aggressive abrasives for metals such as titanium because of their sensitivity.

Inovatec Machinery - The King of Gun Barrel Polishing and Mass Finishing Equipment
Safe, rapid and effective gun barrel polishing machines
Easy to install – can be automated for continuous production
World-class polishing abrasives – you can order now
Standard and custom machines available at your disposal
Frequently Asked Question
What is the Least Number of Gun Barrel Polishing Machines that Can be Ordered at a Time?
You can order at least one unit at a time. However, you are not limited to the maximum amount of the machines you can order.
How can I Dispose of Waste Water from My Polishing Machine?
The best way to get rid of wastewater is by first storing it in a sediment tank. This wastewater may be full of metal particles that are not safe for the environment.
How Long Should I Wait for My Machine After Ordering It?
It depends on the urgency of the machine. If you need the machine urgently, we can make special arrangements to get your machine in the shortest time possible. You can get it within 15 days.
However, the standard shipping duration is at most 25 days.
How Do I Keep My Polishing Machine New and Strong?
You only need to read your owner's manual and follow the recommendations stipulated there. You also need to service your machine's mechanical parts regularly.
What is the Optimum Power used to Run the Machine?
Firstly, desist from using the machine from a single-phase power connection. The optimum power used to run the machine should be 460V from a 3-phase power connection.

Gun Barrel Polishing – The Definitive Guide
Are you a proud owner of guns and ammunition? Or would you love to know how your gun barrels are polished?
If so, consider using the techniques you will learn in a short while from this article. You will find out the top nine answers to the most asked questions about gun barrel polishing.
Keep reading this article to find out more.
1. What is a Gun Barrel?
A gun barrel is one of the primary parts of any gun. It is the front part of the gun where a bullet passes through under high pressure. It is what delivers the projectile (bullet) in the direction you want under incredibly high velocity.
2. What are the Primary Reasons for Gun Barrel Polishing?
There are undoubtedly various reasons why gun barrel polishing is so important. Check them out:
Appearance
Firstly, appearance sets the tone of how you will perceive the gun's performance. If its appearance is not appealing, it will be highly difficult for you to love the gun or its performance.
Accuracy
If your gun barrels are not effectively polished, then, its accuracy will certainly be negatively affected. The gun barrel entails the muzzle of the gun. Thus, the barrel's polishing should be impeccable to ensure that the muzzle has a clean polish. It should enhance accuracy.
Symmetry
Proper symmetry ensures that your gun does not miss its target. Proper symmetry can only be achieved through proper polishing.
Polishing will help your gun maintain the proper symmetry.
Strength
Polishing gets rid of impurities and any form of corrosion completely. Corrosion and impurities are the primary reasons why your gun barrels become weak.
Well, polishing them makes your gun barrels more robust – just as they should be.
Coating
Polishing gun barrels (especially those made of steel) is imperative before bluing them. You need to polish them well so that the coating is smooth and long-lasting.
Remove Tarnishes and Oxides
When you fire several rounds, the barrel will have oxides and tarnishes after exposure to the environmental moisture.
Effective polishing does away with these oxides and tarnishes.
3. How are Gun Barrels Polished Manually?
The manual process of polishing gun barrels is highly mechanical. There are two primary ways of completing the manual polishing process.
Both situations require the use of a polishing wheel. Firstly, you can choose to pass your gun barrel on the edge of the polishing wheel.
There are different polishing wheel heads with different levels of abrasive strengths. You need to be experienced to get the sleekest finish.
The second way is by making your gun barrel immobile. You can then make your abrasive wheel mobile so that you can polish your gun barrel.
4.  What is a Gun Barrel Polishing Machine?
A gun barrel polishing machine is responsible for the surface refinement of your gun barrels. The machine can polish several barrels at a go.
The trough vibratory gun barrel polishing machine ensures that the process is efficient, effective, and time-conscious.
It is capable of polishing rapidly – several hours, and the process is complete. The machine is also automatic – so it knows when to stop.
The machine can also be automated for continuous processes.
5.   What are the Benefits of Using a Gun Barrel Polishing Machine?
There are undoubtedly different primary benefits of using gun barrel polishing machines over the manual method of surface refinement.
Time-Effective
The first benefit of using a gun barrel polishing machine is its time to finish the process. The machine polishes your gun barrels rapidly.
High-Quality Finish
The second benefit is the quality of finish that the machine offers. The machine offers you a clean and uniform finish – including the most intricate corners of your barrels.
No Prior Experience Required
The third benefit is that using these machines does not require prior experience. All you need to do is to read your owner's manual.  You can also ask Inovatec Machinery for advice on matters that you do not comprehend.
Saves You Money and Physical Energy
The fourth benefit is that using mass finishing machines saves you a lot of money and energy. It saves you money because it reduces the risk of you damaging your gun barrels when polishing manually.
Also, the machine is automatic – meaning it does not require manning as it polishes your barrels.
The machine is also not expensive to acquire, run, and maintain.
There are so many reasons why using a machine is more beneficial to you than manual polishing.
6.   Which Machines are Ideal for Gun Barrel Polishing?
Two primary mass finishing machines are suitable for gun barrel polishing – as you read earlier on in this article.
The first machine is the trough vibratory polishing machine. It has a long rectangular finishing trough, which makes it ideal for polishing long gun barrels.
It works by vigorously shaking its polishing tub using its robust motor at a predetermined vibrating amplitude. When the trough shakes, the contents inside the tub (gun barrels, and polishing media) rub against each other's surfaces.
This rubbing causes the barrels' surfaces to be polished.
The second machine is the centrifugal barrel polishing machine. It is among the high-energy category of polishing machines.
It works by spinning its four finishing barrels at incredibly high speeds. These barrels are fixed on one flywheel, which also rotates. However, it rotates in the opposite direction from the four polishing barrels.
This design enhances the polishing process by making the machine utilize every ounce of the centrifugal force generated.
You can contact Inovatec Machinery today to place an order for your machine. You can choose the standard machine option or the customized machine option.
7. Which is the Ideal Mass Finishing Media for Polishing Gun Barrels?
Now, you first have to understand that different gun barrels are made using different materials. There are different types of polishing media that you can use to effectively and efficiently polish your gun barrels.
You can use different polishing media with varying abrasive strength for different gun barrel materials. For sensitive gun barrels like titanium, it would be best to use soft abrasives.
Apart from polishing, you can also use these abrasives for deburring, descaling, grinding, or even degrease your gun barrels.
8. What are the Different Types of Mass Polishing Media for Polishing Gun Barrels?
Inovatec Machinery offers a wide range of polishing abrasives for gun barrel polishing. It all depends on what gun barrel material you want to polish.
Check this out:
The first polishing abrasive that Inovatec Machinery provides is ceramic polishing media. It is highly aggressive and ideal for all sorts of cutting.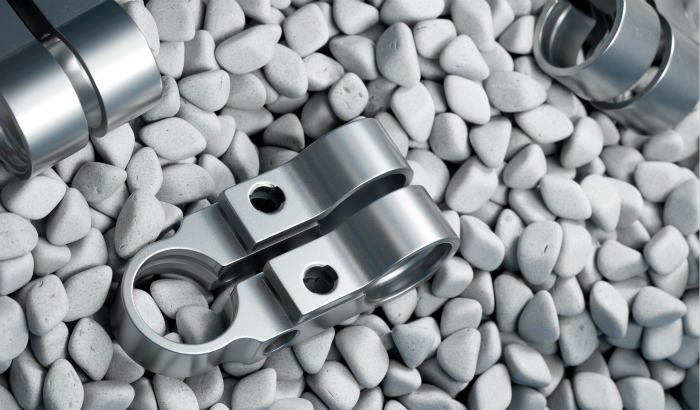 The second polishing media is plastic media – it is a soft polishing media that does not crack nor chip – even under immense pressure. They do not easily get damaged. Many mass finishing industries use it because of its polishing potential.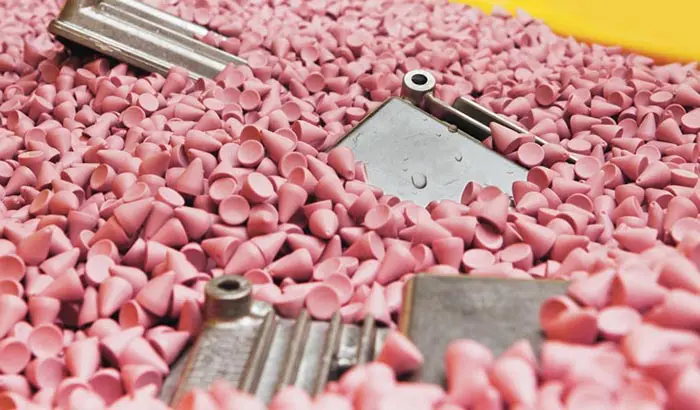 The third polishing media is porcelain media. It is a robust media but not as aggressive as the ceramic polishing media. You can use it to make your gun barrels shine.
Note:
All these polishing abrasives come in different shapes and sizes. You need to select the correct size and shape for the best results.
Also, all these abrasives work well in wet or dry polishing processes.
You can contact Inovatec for more concerning mass finishing media. We can also supply you with world-class abrasives. You will not regret the results.
9. Which Gun Barrels are Ideal for Polishing?
There are different gun barrels from different guns. These barrels are made from different materials. Check out some of the gun barrels that are supported for mass polishing:
The first one is a pistol barrel. The pistol barrel is not long – it can, therefore, be polished using a bowl vibratory tumbler or a centrifugal barrel polishing machine.
You'll need to be cautious when polishing your pistol barrels because they are made of different materials. You can find them made from stainless steel, carbon fiber, or even aluminum.
The second one is a gun barrel blank. These gun barrel blanks undoubtedly require the use of a trough vibratory polishing machine because of its length.
The third gun barrel is the double-barrel shotgun barrels. They are long – most of them are made from steel alloys.
The fourth gun barrel is the AR15 gun barrel. Accuracy is key when polishing this gun barrel. It is also a long barrel, the longest one being 24 inches – it requires a trough vibratory tumbler.
The fifth gun barrel is the rifle barrel. They are mostly made out of steel. You'll yet again require the trough vibratory tumbler for polishing this gun barrel.
The sixth gun barrel is the AK47's barrel. It is one of the widely used guns all over the world. You need to ensure that its barrel is clean and highly polished.
The seventh gun barrel is the chrome-molybdenum steel gun barrel. It can be polished using mass finishing machines.
The eighth gun barrel is the stainless steel gun barrel. It is shiny and appealing to the eye. You'll want to polish this gun barrel to maintain its good looks.
Other gun barrels such as the broach rifling barrel, button rifling barrel, and hammer forged rifle barrel require polishing.