The Best Quality Bike Frame Polishing Vibratory Solutions from Inovatec Machinery
We offer vibratory solutions for all types of bike frame polishing
Our vibratory machines polish bike frames individually for best results
Our machines are guaranteed to produce consistent surface finishes on all bike frames
We have designed our finishing machines for easy operation at an affordable price

Inovatec MachineryChina's Leading Vibratory Solutions for Bike Frame Polishing
As a leading manufacturer in mass finishing solutions for over 20 years, we have designed the best machinery for all your polishing needs.
Bike frame polishing requires intricate attention along with specific machinery to complete the polishing successfully.
These machines are ideal for longer and larger parts. The tub vibratory machine is suitable for cleaning, polishing, burnishing, and deburring of bike frames.
This series of machines are similar to that of the TVB (A) series. However, the TVB (B) is designed with a divided tub and straight wall for tumbling purposes. Each part in the tub is suitable to hold various parts and is used for effectively polishing bike frames.
Bike Frame Polishing Media
Plastic media and porcelain media is ideal for polishing bike frames. If you require a specific type of finish, we have polishing solutions to suit your needs.
For all our products we have available, browse through our catalogue to get more information on what products we have on offer for your needs.

Inovatec Machinery – China's Leading Manufacturer of Bike Frame Polishing Vibratory Solutions
We offer a wide variety of finishing media for bike frames
Our vibratory finishing machines offer batch processing for bike frames
Our recommended method of polishing bike frames are wet polishing for best results
Our TVB series of finishing machines are ideal for polishing high-end bike frames
Frequently Asked Question
What type of bike frames can be polished with the vibratory machine?
Vibratory finishing machines are used for polishing bike frames such as carbon fiber, stainless steel, titanium, and many more.
What is the duration for bike frames to be polished?
The duration of polishing bike frames vary depending on the type of materials of bike frames.
Is there a minimum quantity for orders?
Yes. We have a minimum quantity order of one vibratory finishing machine. However, you can purchase as many machines as you require.
How can I order a polishing machine?
Give us a call today and we can discuss your ordering options for tub machines for bike frames.
What power connection is required for the polishing machines?
When purchasing the polishing machines, we recommend using a 3-phase power connection with a minimum of 230 voltages.

Bike Frame Polishing FAQ Guide
In modern life, bikes have become popular for various reasons. Whether it's for competitive reasons, or for everyday recreational reasons, we have polishing solutions for all bike frames.
1. What is the best way to polish bike frames?
Bike frames have to be polished thoroughly and accurately for best results.
The best way to polish bike frames is by using the tub vibratory machines that are available in TVB (A) and TVB (B) series.
The polishing process is easy and efficient. Bike frames are place into the tub tumblers along with the appropriate polishing media.
Once the machine is started, the machine should be set on the desired setting. Once the process has been complete, you can check frames to see if it's up to standard, if not, you can allow the bike frames to complete an addition tumbling cycle.
2. What polishing machine is suitable for polishing bike frames?
The tub vibratory finishing machines are ideally used for polishing bike frames. They produce thorough and effective results.
The tub machine is robust in design with a powerful motor, making it strong and durable for polishing purposes. It can withstand larger and longer bike frame parts for efficient polishing.
The shaking of the tub creates the tumbling effect and further causes friction between the parts and media. The friction is what allows the bike frames to be polished with great results. Owing to the abrasive properties found in media, it removes imperfection son frames while improving surfaces for maximum results.
The machine has a time setting that allows you to set the duration and speed of the polishing process according to your needs. It's an economical and efficient process.
If you require advanced surface parts, we recommend using polishing compounds to further improve surfaces for ultimate results.
3. How can fragile bike frames be polished?
When it comes to fragile and delicate bike frames, the necessary precautions need to be taken. For this reason, we recommend using the tub vibratory finishing machine. This machine has divided tubs with straight walls.
The straight walls act to minimize and protect parts from contacting, which damages parts and results in poor outcomes.
4. What polishing media can be used to clean bike frames?
There are two commonly used polishing media for cleaning bike frames. These include porcelain and plastic media.
Porcelain polishing media is made of ceramic properties making it robust and strong. However, porcelain media is not as abrasive as ceramic media. This makes it the ideal type of media for polishing bike frames.
Plastic polishing media is manufactured media. They are less abrasive than porcelain polishing media. It polishes surfaces excellently; however, it might not offer the desired shine you require for the surfaces of your bike frames.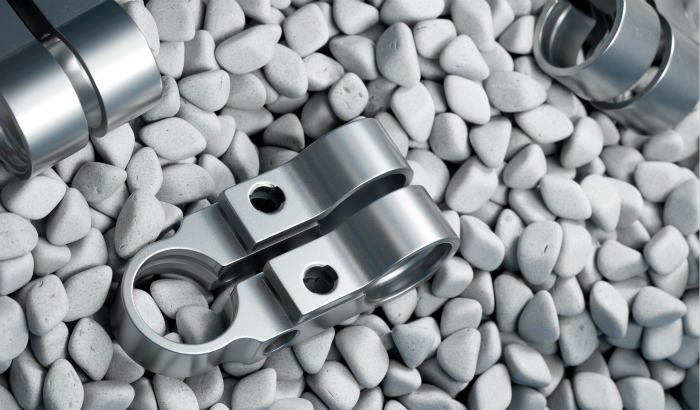 5. What is the duration of polishing bike frames?
Polishing bike frames in a certain time matters. Over polishing is not an economical option.
Our series of tub vibratory machines are robust in design and are suitable for rapid polishing of bike frames for best results in a short time.
The duration of polishing is dependent on many factors including the type of media you use, the material of bike frames, the polishing speed, the amount of parts you are polishing, and many more.
6.  What are the advantages of polishing bike frames?
There is a wide variety of advantages of polishing bike frames.
It helps to enhance the surface appearance of bike frames and improves the effectiveness and performance thereof.
Polishing bike frames also decreases the amount of exposure to corrosion and other surface contaminations.
When polishing bike frames, the structure is automatically improved and strengthened for better performance. Bike frames are more robust and durable. This allows bike frames to undergo high levels of stress for competitive usage. The frames are also exposed to environmental conditions such as dirty water and other corrosive elements that might pose a threat to bike frames.
7.  What are the advantages of using a vibratory finishing machine?
There are many great benefits when it comes to using these machines.
The finishing machine is robust in structure with a strong motor power that is ideal for high volumes of parts at a rapid speed.
The control console that comes with the machines allows you to set your speed and time to your needs.
The cover on the machine known as the acoustic lid is designed for noise control as well as preventing spillage from media during polishing process.
The separating funnel is a great benefit for automatic separation of parts and media. It is highly effective and efficient.
Fragile parts are suitable for polishing in tub vibratory finishing machines. The tub is divided from the straight walls, making it ideal for protecting parts from friction.
We have an amazing range of vibratory polishing solutions for all your bike frame needs. Contact us today to find out more.