The Best Polishing Solutions for Your Turbine Blades from Inovatec Machinery
We offer high quality polishing solutions for your turbine blades
We manufacture all types of vibratory media and finishing machines
Our machines are designed with optional settings for efficient operation
We have designed our finishing machines for easy operation
Our finishing machines are cost-efficient

Inovatec MachineryChina's Leading Turbine Blade Manufacturers and Suppliers
With over 20 years of industry experience, Inovatec has established a reliable reputation in manufacturing high quality tumbling machines. We are the largest manufacturing company in China for mass finishing machinery. We offer a wide variety of mass finishing machines for all your turbine blade polishing requirements.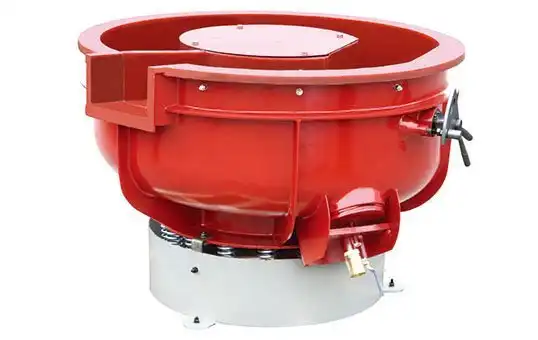 The vibratory tumbling machines are round in design perfect for all polishing requirements. The vibratory tumbling machine can be used for polishing, cleaning, deburring, and burnishing turbine blades.
Our drag finishing machines are our latest range of finishing machines. They are suitable for producing great finishing results in large production batches in a short period.
These machines are designed to spin parts at a fast rate using a disc. The force that takes place, allows the turbine blades to rub against the media, causing friction. The friction polished the surfaces of turbine blades, removing all unwanted burrs from parts. The machines produce efficient results at an affordable cost.
Polishing Media for Turbine Blades
When it comes to polishing certain types of parts, it's important to choose the appropriate media to achieve the finishing results. Selecting the wrong media can have damaging effects on parts and media that will be costly. For this reason, we recommend to use porcelain and plastic media.
If your turbine blades have unwanted surfaces burrs, you can use an abrasive media to help remove these burrs and surface flaws while improving surface areas.

Inovatec Machinery – The Leading Turbine Blade Polishing Machine Manufacturers in China
We manufacture polishing solutions that are suitable for deburring and cleaning turbine blades
Our polishing machines are cost-efficient
We offer a 2 year warranty on machines and a lifetime warranty on machines
Our machines are suitable for all mass finishing requirements
Frequently Asked Question
What turbine blade polishing machine should I purchase?
If you require high quality polishing, we recommend purchasing the centrifugal disc tumbling machine. If you need regular polishing for turbine blades, then you can purchase the vibratory tumbling machine that will get the job done.
What is the MOQ for turbine blade polishing machines?
We have a minimum order amount of one machine. However, you can purchase as many as you require.
Which media is most suitable for turbine blade polishing?
We recommend using porcelain and plastic media, as they are less abrasive than other media. If your turbine blades require a specific finish, then you can use other media that contain abrasive properties.
What is the payment structure?
When you place an order with us, we will require 30% of the total amount before we can begin production. A further balance of 70% is required for shipping once production has been complete and you are satisfied with the batch. A production generally takes between 15 and 20 days to be complete.
Will my turbine blade polishing machine damage during shipment?
We package our products using safety measurements to ensure that our products are protected from damages during shipment.

Turbine Blade Polishing
Turbine blades are common machines used in everyday life such as jet engines, car engines, and many more. It's not an easy finishing process compared to others. Turbine blades require the proper machinery for the best results.
The turbine blades need to be polished sufficiently to ensure its effectiveness. The failure to adhere to proper polishing will lead to fatal accidents and fatality of human lives.
Turbine Blade Polishing FAQ Guide
1.  What is the best finishing machine for turbine blade polishing?
We have three available options for turbine blade polishing.
The vibratory finishing machine can be used for general turbine blade polishing. This machine provides great cleaning, polishing, and deburring of parts. Porcelain and plastic media is suitable for achieving these polished results.
If require a specific type of finish, then we recommend the centrifugal disc tumbling machine. This gives parts a mirror-like finish that is ideal for high-end parts require top-quality results.
In addition, we offer the drag finishing machine, which is one our latest machines in our range. These machines are suitable for large batches and provide excellent results in a short time.
2. What media is suitable for turbine blade polishing?
The most suitable media to use for polishing turbine blades are porcelain and ceramic.
Porcelain polishing media is robust and contains abrasive properties that will effectively polish surfaces of blades. However, you might find unwanted burrs on turbine blades. For this reason, ceramic media is used to remove these burrs and improve surfaces of blades.
3. What is the duration of the polishing process for turbine blades?
The process is done using a mass finishing machine of your choice. The process can take a few minutes or a few hours. The time is dependent on the type of application that is required for turbine blades.
Polishing can take up to a half an hour to be complete, whereas polishing, cleaning, and deburring can take up to a couple of hours. Again, the time frame is dependent on the type of process.
4. How are turbine blades polished using a vibratory finishing machine?
When you choose the vibratory finishing machine to polish turbine blades, the process is a walk in the park.
The motor of the vibratory machine is robust, making the tumbling process rigorous. This rigorous shaking allows media and blades to rub against each other, causing friction. The friction is what removes surface burrs and improves surfaces by polishing blades.
The vibratory machine has many great features.
The first feature is the funnel separation. This allows the media and parts to separate easily, adding to the efficiency of the process.
The second feature of the vibratory finishing machine is the cover known as the acoustic lid. This minimizes the noise and spillage during tumbling.
5. How are turbine blades polished using a centrifugal disc finishing machine?
The turbine blades and polishing media are placed in the container of the finishing machine. The centrifugal machine tumbles the media and parts using a fast spinning method. The disc causes the spinning motion.
The walls of the bowl remain stationary during the spinning, aimed at polishing the turbine blades.
The polishing media then polishes turbine blades for desired results.
This machine is ideal for mass finishing in a short time.
6.  How are turbine blades polished using a drag finishing machine?
This is one of our latest machines in our catalogue. It's ideal for mass finishing solutions.
The machine polishes turbine blades by clamping them in rotating holders. They are further rotated in a high speed in a circular motion through the media in a drum. The drum then rises when the polishing option on the machine is selected.
7.  What are the advantages of using mass finishing machines for polishing turbine blades?
There are amazing benefits of using a mass finishing machine for polishing turbine blades.
Our range of mass finishing machines is designed to complete large batches of blades in one cycle.
The second advantage of using a mass finishing machine is that the process of polishing is efficient and effective without damaging turbine blades.
Mass finishing machine is suitable for polishing turbine blades uniformly and flawlessly. This is important to ensure that all parts are the same for maximum results and power for industries.
Finally, our mass finishing machines are cost-efficient and require little maintenance.
If you are looking for the best polishing solutions for your turbine blades, then we have the right options for your needs. Get in touch with us today to find out more.