Polishing Small Aluminum Parts is Now Easier Than Ever with Inovatec Machinery
Heavy-duty and efficient machines
Secure processing for any type of aluminum part
Durable OEM equipment
Centrifugal, vibratory, and rotary solutions available

Inovatec Machinery The Manufacturer that you Need for your Small Aluminum Parts Mass Finishing
Aluminum is a metal that every industry uses. Whether it be the automotive, aerospace, or clothing industry, all these industries can make good use of polished aluminum.
That is why you should rely on Inovatec Machinery for your polishing equipment. They have more than 20 years of experience. Rest assured, you will find the best solution here.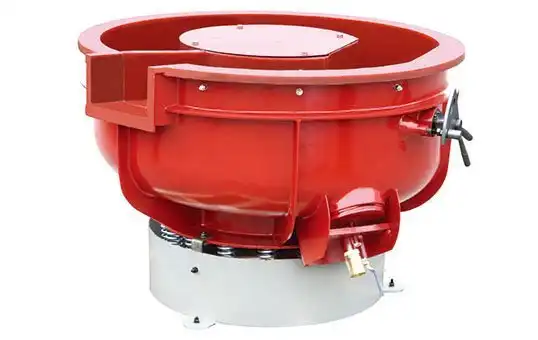 The vibratory finishing machine is ideal for deburring a large number of aluminum parts. It doesn't matter if the parts are cast or machined—you can find your perfect vibratory bowl at Inovatec. Plus, this machine can polish die casting parts with stainless steel balls.
This machine is suitable for deburring, polishing, burnishing, and more. Plus, these machines are cost-effective and highly efficient.
You may purchase this in straight wall design, a curved wall, a tub shape, etc. It all depends on what you require the machine for.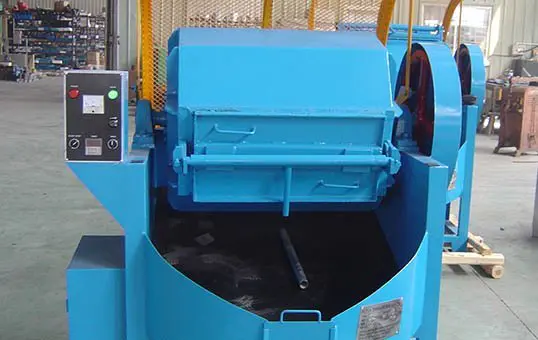 These machines can also polish and burnish small aluminum parts. It works best for pieces with a rough surface, such as sand casting parts.
Rotary barrels are also known as rotary tumblers. These machines are some of the most original finishing machines to be ever made. Rotary barrels are cost-effective, efficient, and last a very long time. They don't have jerky or sudden motions, either. It makes them safe machines.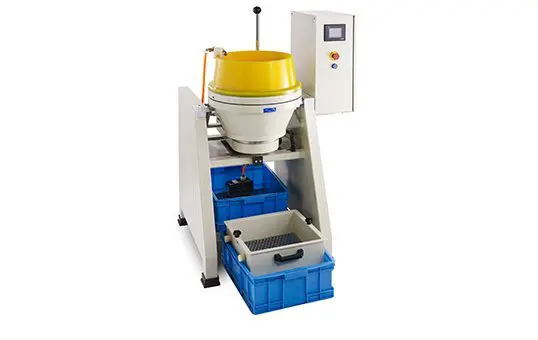 A centrifugal finisher is your best option if you wish to remove machining marks. It does this through plastic media. To add, it uses porcelain balls for polishing.
This machine is probably the best machine you will find in the market for polishing aluminum parts. This disk finisher is best for smaller pieces.
This machine is a high-energy deburring and polishing machine. You can expect to get a mirror-like surface in a short amount of time.
These machines are much like the centrifugal disc finishers. They are similar in the sense that they both use centrifugal force for finishing. However, this machine has a barrel instead of a disc.
When the barrel rotates, it creates friction between the media and the aluminum parts. This motion causes them to polish and shine.
Media for Polishing Small Aluminum Parts
Polishing aluminum can be a daunting task for anyone new to the industry. But Inovatec will help you in every step of the way to selecting the right polishing media. Keep in mind that for polishing in general, we mostly use plastic or porcelain.

Inovatec Machinery – The Industry Leader in Manufacturing Mass Finishing Machines for Polishing Small Aluminum Parts
Guaranteed assistance from Inovatec to help you choose the right media and machine
Cost-effective labor and operation
An extensive collection of media and machines to choose from
Well-manufactured and well-designed finishing equipment
Frequently Asked Question
How do I know that your equipment is suitable?
Inovatec offers a complimentary trial before you make a purchase. All you need to do is send them the parts, which they will polish for you. Then you may make your decision.
What is the likelihood of my machine getting damaged in shipping?
Inovatec makes sure every order is nicely packaged. All the finishing machines are put into wooden boxes with the necessary safety materials.
Can I use ceramic media for polishing small aluminum parts?
You can do it if needed. However, plastic and porcelain are your best options.
What is the payment procedure?
Please make an advance payment of 30% when you order. You can pay the rest before your order ships out.
What are the nearest destinations?
The Shanghai, Yiwu, and Ningbo ports are the nearest ports to the Inovatec factory. However, they can ship the materials anywhere you like.

Polishing Small Aluminum Parts – The Definitive Guide
Aluminum is one of the most popular metals.
The aerospace and automotive industry are just two of the industries that use this metal.
Aluminum is very prone to burrs and corrosion. That is why they need to be adequately polished.
However, polishing aluminum is not as simple as you'd think.
The following presents a guide to polishing aluminum parts. This is what you will learn about:
What machines to use for polishing aluminum
What vibratory finishing media to use to polish aluminum
What to consider when polishing aluminum
Simply keep on reading to learn more.
1. What is the best way to polish small aluminum parts?
To polish small aluminum parts, always use mass finishing machines.
These machines significantly simplify the task for you.
You can use four types of machines to polish aluminum parts.
Firstly, you can use industrial vibratory tumbler.
This machine is quite sturdy. The powerful motor gives it its strength.
The motor makes the tub shake to create friction.
Friction is vital to the polishing process. The media and the parts need to rub against one another.
Secondly, you can use the centrifugal disc finishing machine.
The machine is also sturdy and uses centrifugal power.
It has an exciting process of doing things. You will learn about this later.
Next, you can use a centrifugal barrel finisher.
It is also a powerful machine that uses centrifugal force.
It has four barrels connected to a flywheel. The flywheel rotates in a different direction than that of the barrels.
This motion improves the polishing process.
Lastly, you can use a rotary tumbler. It is also called a barrel tumbler.
The machine works by spinning its barrel. The barrel moves at a set speed for a consistent finish.
Plus, the machine has a unique feature. The barrel is either a hexagonal or an octagonal prism.
You can also use polishing compounds to improve the process further. The compounds will considerably benefit your parts.
All in all, every mass machine is different, but they all give you desirable results.
2. Which is the ideal polishing media for aluminum parts?
To polish aluminum, always use the recommended media.
There are two types of recommended polishing media. Choose one or the other, depending on your requirements.
If you want heavy polishing, use porcelain balls.
Porcelain is a firm type of media that contains ceramic in it.
However, it is not as abrasive as ceramic. It is what makes it excellent for polishing aluminum parts.
Secondly, you can use synthetic plastic polishing media.
Now, plastic is a lot weaker than porcelain.
So, use this media for parts that don't need significant polishing.
Synthetic media is quite sturdy, though. It will not crack or chip easily.
To add, plastic is lightweight. It assures that the machine completes the process in a short amount of time.
On the other hand, plastic will not give you a shiny finish. It is something it's not able to achieve.
You can find both types of media in many shapes and sizes.
Both media can also be used in any type of machine.
3. How long does the aluminum polishing process take?
The polishing process will not take long since you are using mass finishing machines.
However, some things that can affect the duration of the process.
Firstly, you have to consider what machine you're using. Some machines polish faster than others.
For instance, a centrifugal machine is faster than a rotary tumbler.
Secondly, you have to think about your polishing media.
Remember: porcelain media is more aggressive than plastic media.
However, porcelain media is heavier than plastic.
So when using porcelain media, your machine will use up more energy than it would while using plastic.
Thirdly, consider whether you want a wet or dry polish.
Now, wet polishing is recommended since it keeps your parts safe and healthy. It reduces the risk of dents and burrs.
Pro tip:
The way you use your machine also plays a role in the polishing process.
You decide the speed and duration. Everything depends on the intensity of the polish you need.
As a bottom line: the polishing process will not take long in general. It all depends on the way you are using your machine.
4. How can I make my aluminum parts have a shiny mirror finish?
To get a gorgeous mirror-like finish, use porcelain media.
You may also use polishing compounds to smoothen the process.
You can choose any machines to polish your aluminum parts. However, a centrifugal barrel machine will give you the fastest results.
You can also select the centrifugal disc finisher if you'd like.
Just make sure that you are setting the machine to the recommended speed and time.
Remember that plastic media will not give you a shiny finish.
However, you can use plastic media after you have used porcelain media.
However, doing this requires you to polish twice. It is quite expensive.
The bottom line is:
The ideal media is porcelain.
Using this media will make your parts smooth and shiny.
5. What is the process of polishing small aluminum parts using a centrifugal disc finisher?
Be very cautious when using a centrifugal disc finisher.
The machine is very powerful and can damage your parts if not properly handled.
This machine uses the same principle as the blender you use in your kitchen.
The centrifugal machine has a disc at the bottom that moves rapidly during the process.
However, the walls of the machine are sturdy. This unique design makes for an enhanced process.
The spinning disc creates a centrifugal force.
The force can force the parts out of the machine.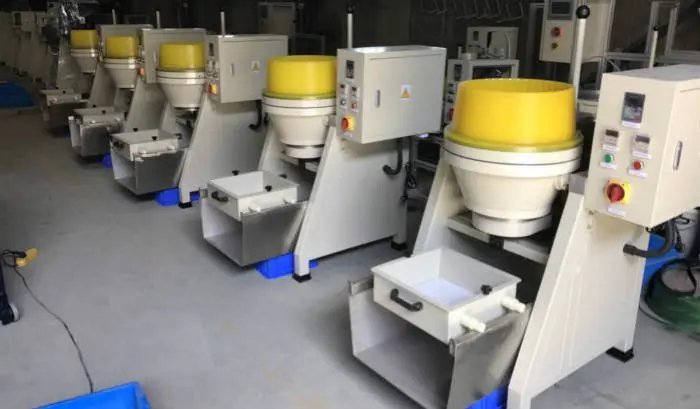 But the walls keep the parts in check. They act as a barrier.
All these features make sure that the process continues.
Plus, the machine has an inland compound jet. The jet controls how much compound we put into the machine.
The jet helps you regulate the amount of compound used in every cycle.
Remember not to use too much of a polishing compound. It is only uneconomical and does not improve the process any further.
6. What are the benefits of polishing small aluminum parts?
Polishing aluminum parts is very advantageous.
The following are three reasons why you should polish small aluminum parts:
Firstly, polishing parts will make them more reliable.
Why? Well, polishing will get rid of any corrosion that has built up on the part's surface.
Se, polishing improves the look of the aluminum parts.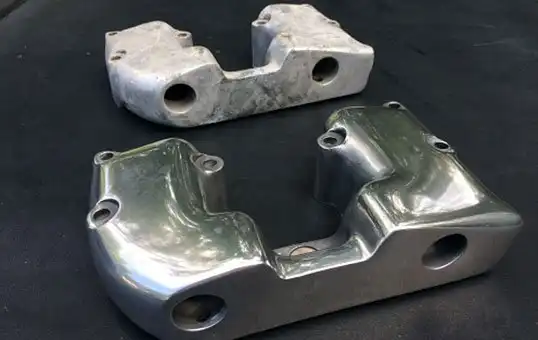 Thirdly, polishing gets rid of any dents or scratches on aluminum.
This little deburring is perfect for die-cast parts, such as a die casting heatsink.
7. What are the advantages of using mass finishing machines to polish aluminum?
First of all, polishing these parts means that you can clean multiple parts at once.
The machines can accommodate many parts in one cycle.
Mass finishing machines are great because a manual process would be too labor-extensive and slow.
Secondly, mass finishing machines are fast.
They don't take long to complete the finishing process.
Thirdly, these machines will not change the shape or dimensions of the workpieces.
Most aluminum parts have little corners and crevices to polish.
In manual polishing, reaching these corners is nearly impossible.
The fifth advantage is that you will get a consistent polish throughout your workpiece.
Bottom line:
Mass finishing machines have more benefits than they have disadvantages.
These machines are cost-effective, productive, and highly efficient.