China's Leading Manufacturer and Supplier for Silver Polishing Machines
We have high quality mass machines for polishing silver
We offer a wide variety of media for all purposes
We give you an option for customizing your machine according to your specifications
Our finishing machines are designed to cut labor cost and increase efficiency

Inovatec Machinery The Best Polishing Solutions for all Your Silver Needs
Inovatec Machinery is the leading manufacturer and supplier for silver polishing machines. With over 20 years of industry experience, we have designed our machines for a variety of reasons. Our machines are efficient and affordable.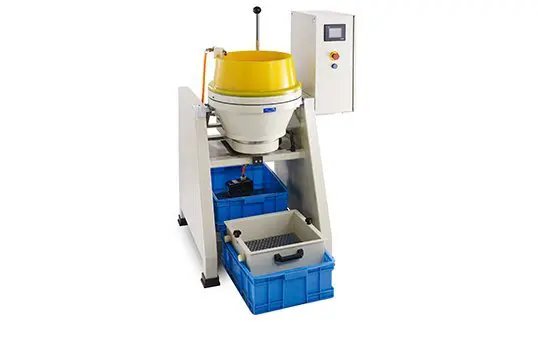 Centrifugal disc finishing machines are one of our leading machines for mass finishing. They are designed with a motor that can withstand high-energy workloads. The workload spins on a disc and completes the polishing process. There are different sections for the media and silver parts.
The high spinning speed causes friction between parts and media. In doing so, the media cleans the surfaces of parts while producing excellent polishing results.
The centrifugal disc machines are ideal for dry and wet polishing.
The desktop vibratory machines are commonly used for polishing silver. The vibratory finishing machine takes longer to polish parts compared to the centrifugal disc finishing machine. However, the results are the same. The vibratory machines are more cost-efficient than the centrifugal machines.
This machine is a small vibratory machine compared to the other industrial ones. They are available in a selection of bowl sizes that varies between 10L and 17L.
The eco maxi is the leading choice for polishing silver. It has three different barrels for various polishing purposes. These barrels can be used to polish silver using dry, wet, or magnetic media.
What makes this machine stand out from the rest is the fact that the entire machine can be customized according to your needs. It operates on a 110 or 220 voltage input and can work with currents such as 60Hz or 50Hz.
Magnetic finishing machines are designed for polishing intricate parts. The barrel has a small area, making it suitable for small part such as silver and other appropriate parts. As a result, this aids in a safer and efficient operation.
The magnet machine is compact in structure making it suitable for easy storage. The polishing process is short and takes up to 30 minutes to complete one production batch.
Silver Polishing Media
Tumbling media is suitable for almost all types of materials. For polishing silver, using ceramic media is your number one option to achieve great results for your silver parts. However, if using ceramic polishing media is too harsh on your parts, we recommend using porcelain media or plastic media for polishing silver.

Inovatec Machinery – The Best Manufacturer and Supplier of Silver Polishing Solutions from China
Our machines are designed to protect your intricate designs on all your silver parts
We offer a wide selection of polishing media suitable for all types of silver
Our polishing machines are high quality with features for efficiency and effectiveness
Low labor cost and maintenance
Frequently Asked Question
Does Inovatec guarantee high quality machines?
Inovatec machinery has over 20 years of experience in the mass finishing industry. We have established a reputable name through our years of experience and quality machinery.
What is the duration for manufacturing a polishing machine?
Manufacturing can take between 15 and 20 days. If we have the desired machine in stock, then manufacturing time will not be needed. All we will do in that instance is ship the machine to your location within 5 days of purchasing.
What payment options are available?
We offer a variety of payment methods. These include T/T transfers, PayPal. Western Union and many more. For large orders, we accept LC payment.
What is the recommended power connection?
When purchasing a silver polishing machine from us, we will recommend you use a 3-phase power connection with a minimum of 230-voltage line.
How long does shipping take?
We use various shipping methods. Each method has a different shipping duration. If we ship by air, the duration of shipping will be shorter compared to sea shipping that usually takes longer.

Silver Polishing FAQ Guide
1. Which polishing machine is suitable for silver polishing?
We have a range of four polishing machines that can be used for polishing different silver materials.
Desktop Vibratory Finishing Machine
This is a small machine and be placed and stored almost everywhere in your warehouse. It has a robust and powerful motor that works effectively in vibrating parts and media.
The vibration causes friction between silver parts and media, which helps to enhance the polishing results of silver parts.
The magnetic machine is also known to be a robust machine that functions by using electromagnetic elements for polishing.
The polishing process is fast and efficient and it reaches even the most intricate parts of the silver parts.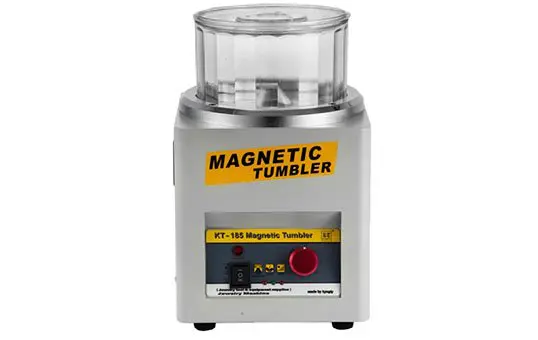 This polishing machine is equipped with a strong motor and robust structure. It works by spinning the disc to enable the polishing process.
The containers have walls that remain stationary throughout the polishing process. This feature enhances the polishing of silver parts.
Eco max barrel 3-in-1 is known for its unique design. The 3 barrels were designed for different purposes.
The first barrel is for dry polishing, whereas the second is for wet polishing. The third barrel is made for magnetic finishes. All three barrels are suitable for polishing silver parts.
2. What is the duration for polishing silver jewelry?
Generally, the polishing machines complete the process fast and efficient. It can between minutes to hours, depending on the material that requires polishing and the number of parts.
Important factors that play a role in the duration of polishing include:
The type of mass finishing machine being used
The type of polishing media used
The type of polishing method you use for example, dry or wet, or magnetic polishing
The desired finishing results
3. How can deep scratches be removed from my silver chain?
A simple polish can remove scratches on your silver chain.
For this type of material, we recommend using a desktop vibratory finishing machine for the best results.
In order to do so, you need to put your silver chain in a vibratory bowl along with the polishing media.
If you scratches are not deep, we recommend using media that contains less abrasive properties like plastic or porcelain polishing media. However, if the scratches are deep, we advise using an abrasive media like ceramic polishing media.
For the best results, use the wet polishing method to enhance the polishing finish.
4. What is the process of polishing silver jewelry with a centrifugal finishing machine?
The disc at the bottom of the container spins at a fast speed to enable the polishing process. The spinning creates the friction between parts and media.
The walls of the containers remain stationary to enhance the polishing of silver jewelry.
The control panel allows you to control and adjust the speed according to your requirements.
5. Which polishing media is suitable for silver rings?
Depending on the level of polishing, you require the media you choose will vary.
For bad surface conditions, we recommend using an abrasive media such as ceramic. Ceramic successfully removes all undesired flaws to give silver rings a flawless finish.
However, if your silver rings are in a medium to good condition, then we advise using a less abrasive media such as plastic or porcelain. This will prevent unwanted surface damages and will enhance the appearance of jewelry.
6.  How do magnetic finishing machines polish silver?
Magnetic finishing machines are suitable for a variety of media. Your choice of media needs to adhere to electromagnetic elements in order to achieve successful results for silver.
We recommend using stainless steel polishing media for silver. Keep in mind that not all stainless steel media has magnetic components. This is an important factor to consider when purchasing stainless steel media.
The process of polishing in a magnetic finishing machine is simple.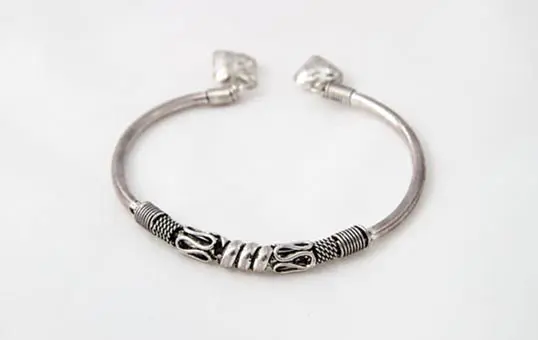 Firstly, you need to place your silver parts in the magnetic finishing container. Secondly, place your stainless steel media in the polishing container. You may add water for enhancing the polishing of silver parts.
Once all your components are placed, switch on your machine and set your polishing time and speed.
Upon completion, remove the silver and check for results. If you are satisfied, then the process is complete. However, if you feel you want a more polished finish, then we recommend doing another cycle until you are satisfied with results. You can reuse the same media again.
7. What advantages does mass finishing machines have for polishing silver?
Mass finishing machines have great benefits for polishing silver.
These benefits include:
The polishing time is quick and efficient
Mass finishing machine provide smooth finishes to all silver jewelry
Our machines are suitable for polishing many silver parts in one go
Finishing processes saves you time and money
Mass finishing machines retain the original shape of silver pieces during polishing
8.  What benefits are there for polishing silver?
The main advantage of polishing silver is restoring its shine and sleek appearance.
It also makes jewelry more strong and durable.
Polishing silver jewelry removes all unwanted sweat and dirt that eventually causes the silver to deteriorate due to surface contamination.
If you want to get in touch with us today, send us an inquiry or give us a call. We look forward to helping you.