High-Performance Industrial Magnetic Polishing Machine Manufacturer from China
Works best for small and delicate pieces.
The machine polishes and deburrs pieces all in one go!
Magnetic pins help reach little nooks and corners in the workpiece.
Precise treatment without harming or damaging the workpiece.

Inovatec Machinery Your Best Magnetic Polishing Machine for Polishing and Deburring Small and Precise Parts
This Inovatec polishing machine both polishes and deburrs pieces at once. The magnetic factor is super important to the process. The magnetic pins reach nooks and crannies in the pieces that even the smallest of media cannot. To add, they remove burrs.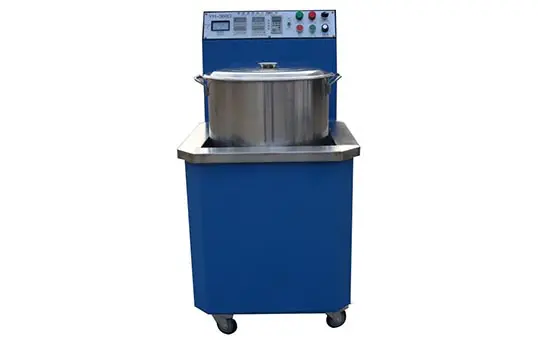 This model is best for industrial work. It's suitable for small- and medium-sized parts. With only 1–2 kg of pins, you can polish and deburr up to 6–10 kg of parts. The machine is 2.2 kW with an AC of 220 V. The barrel or tub is 500×500 mm.
This magnetic tumbler polishes and deburrs big batches of jewelry. It is a relatively small machine. The maximum amount of pins you can add is 1.3 kg. The barrel is 290×170 mm in size. Weight: 30 kg; speed: 4000 rpm.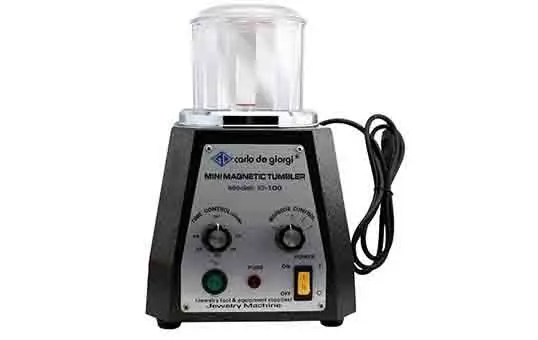 This is the smallest of magnetic machines that you'll find at Inovatec. This model is also suitable for jewelry, however small batches. Barrel size: 100×90 mm; speed: 2000 rpm; capacity: 400g of pins and other jewelry pieces.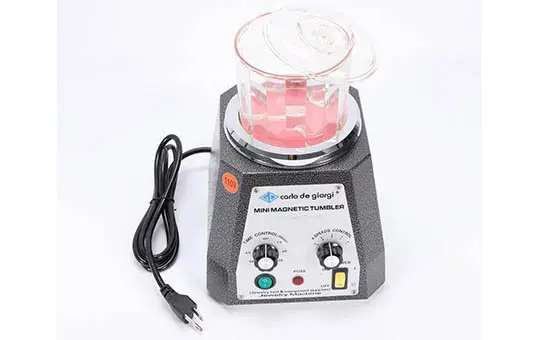 This model is perfect for medium-sized parts. It's also suitable for many types of workpieces, such as jewelry, and brass cases. Barrel size: 180×100 mm; speed: 2000 rpm; capacity: 600g of pins and other workpieces.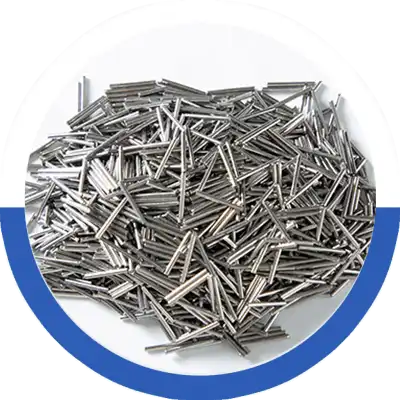 Stainless Steel Magnetic Pins
Inovatec supplied stainless steel pins for magnetic polishing. Whether you polishing jewellery, brass case reloading, or polishing precision components, we have the right solution for you. Contact us now to get free parts processing. We will get back to you within 8 working hours.

Inovatec Machinery – China Leading Industrial Stainless Steel Magnetic Pins Manufacturer & Supplier
Quick and easy to operate
Allows speed control when tumbling
Flexible timer feature
Get a custom voltage or socket, depending on your needs
Frequently Asked Question
Does your machine have a minimum order quantity?
You can choose to buy one machine or as many as you'd like.
How is your magnetic polishing machine packed?
We pack every machine safely in a wooden fumigation box.
What about your terms of payment for the magnetic polishing machine?
We request you pay a 30% advance payment, just to confirm your order. You may pay the rest before the item ships out. We require a letter of credit for bigger orders. To add, you may use PayPal for trading. Besides, you can always come and drop by the Inovatec factory for inspection.
When is the fastest delivery time?
It typically takes 15-20 days to deliver. However, if it's an urgent order, you can get it within a week.
Where is the nearest port to your factory?
The nearest ports include Shanghai, Yiwu, and Ningbo. But we also ship to other locations if required.

Magnetic Polishing Machine – The Definitive Guide
To improve the surface of pieces, we often deburr and polish them.
Magnetic machines can deburr and polish these pieces all in one go.
The following will explain:
The purpose of a magnetic polishing machine
How the magnetic machine functions, and
How you can benefit from using this machine
Simply keep reading to find out more.
1. What is a magnetic polishing machine?
A magnetic polishing machine is classified as a mass finishing machine. We use this to improve the surfaces of different types of metals. The machine uses magnetism to do this.
As mentioned above, the machine simultaneously polishes and deburrs metals.
You can get magnetic machines in many sizes. From small-sized to industrial-sized machines.
The industrial machine can deburr/polish metals of up to 10 kg. The small-sized machine accommodates 1.3 kg of pieces.
To add, the machines have high-level efficiency. Then can complete the process in only a couple of hours—or less.
From screws to intricate jewelry polishing, you can polish just about anything in these machines.
Some other examples are zippers, brass fittings, medical equipment, and more.

2. How does a magnetic polishing machine work?
A magnetic tumbler is an incredible tool for polishing.
First of all, the machine has a control board. Here, we set the settings under which the machine works.
The machine makes use of electromagnetic principles to work. It also uses stainless steel pins and a magnetic tumbler solution in the process.
During the process, the machine moves in a circular motion. In the barrel are the pins, the compound, and the parts that need polishing.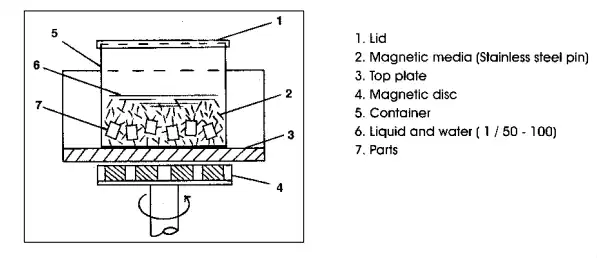 The pins rub against the parts to remove oxidization. They also get rid of any other imperfections.
It is very little to no amount of metal that comes off from the parts during the process. Besides, it is not noticeable at all.
This process is cost-effective, fast, and effective.
3. Can I deburr my metal parts using a magnetic polishing machine?
You can absolutely deburr parts with a magnetic polisher.
That is one of the best things about the jewelry tumbler magnetic machine. You can both deburr and polish in one cycle.
First, you will need to determine what type of metal you want to polish/deburr.
By knowing this, we can now determine the time it will take to polish that metal.
Heavy metals take a couple of hours. However, lighter metals can take only 30 minutes.
Then, you will get stainless steel pins for the magnetic polishing machine for jewellery. The pins play a significant role in the process.
Make sure you know if your metal is heavy or light. Also, know the capacity of your machine.
Industrial machines polish up to 10 kg of metal with only 2 kg of tumbling media.
This is a strong machine.
The smaller version can polish 1.3 kg of metal.
Thus, it's important to know the limits of your machine before you use it.
4. What polishing media does a magnetic polishing machine use?
Magnetic pin finisher machines usually use stainless steel pins.
It is because stainless steel is an alloy of iron, carbon, and chromium. But, not all stainless steel is magnetic.
So how do you know if the steel is magnetic? We can determine this by its composition.
Stainless steel is magnetic because there is chromium in it.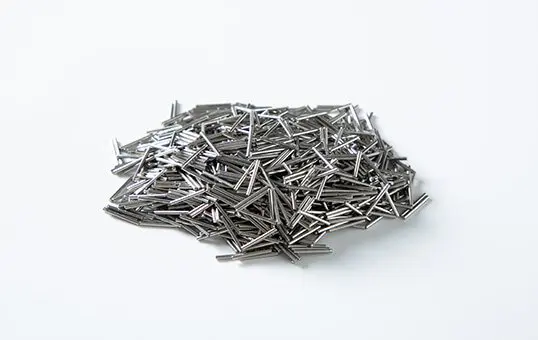 However, if stainless steel has both chromium and nickel in it, it becomes non-magnetic.
Therefore, make sure you have the correct stainless steel media for your tumble polishing needs.
We use pins as media because of their flexible properties. Pins can reach the smallest of cavities and areas.
For example, brass cases polish best with pins. It is because these cases have small holes that only pins can reach.
This is why magnetic machines and magnetic pins are such a good fit.
You can also reuse stainless steel media. You can keep using it until it's not abrasive anymore.
Stainless steel is great for polishing as well as manufacturing. We can both make and polish stainless steel screws, bolts, etc.
5. What is the process of using a magnetic pin tumbler?
The process is very simple.
You can watch the following video to better understand this process:
First, you add the polishing media. Next, we add the chemical compound.
We can also use water as a compound. It all depends on what you're polishing.
However, you can also use other chemicals.
Then, you can add in the parts you wish to polish.
Make sure you are adding the correct amount of parts. Every machine has a specific capacity.
If you overfill, the parts won't polish properly.
Lastly. close the polishing jar that contains all the mass.
Turn on the machine. When you do this, make sure the machine is flat and stable.
From the control board, you can select the time and speed of the machine.
Once the machine finishes the process, you can turn it off and take out the polished parts.
It's crucial to dispose of the chemicals properly. If not done properly, it may cause environmental harm and other health risks.
The next step is to separate the media from the polished parts. Then make sure to clean the stainless steel media.
When you clean the media, it directly affects its performance and shelf life.
It will also avoid cross-contamination.
Following these last few steps is very important. Doing these steps can avoid unnecessary costs and keep the process budget-friendly.
6. Can I polish jewelry using a magnetic polisher machine?
Yes, you can polish jewelry with a magnetic polishing machine.
The most popular jewelry metal that we polish in these machines is silver.
We can easily and quickly polish silver in a magnetic machine.
After polishing, the silver becomes shiny and more appealing to the look.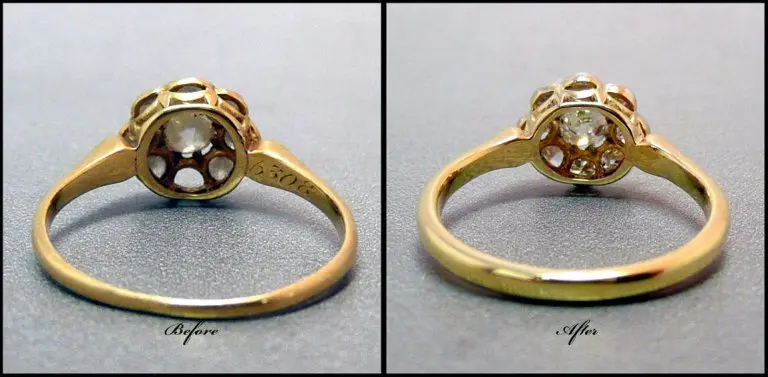 We all value our special jewelry, especially when it comes to special occasions, such as an engagement.
Thus, it's important to do it efficiently. Inovatec's magnetic polishing machine does not only this but also in a very short amount of time.
The processing time varies depending on the jewelry.
Rest assured that your jewelry will look as good as new after it's polished in the machine.
You can also polish/deburr other metals, such as gold and bronze.
7. Is it expensive to acquire and run a magnetic polishing machine?
It is not expensive to either buy or run a magnetic machine.
These machines are quite popular in the workplace. They are very efficient.
However, the cost depends on how you treat and use the machine.
IF you use it unwisely, you will most likely end up with unnecessary costs.
Not following the machine's rules will also give you the same result.
When using the machine, always think about the cost of buying stainless steel media.
If you want to polish small amounts of metal, buy the smaller machine. This size of the machine does not use much electric energy.
Of course, the industrial machine uses a lot more energy.
This size is 2.2 kW and uses an AC of 220 V. The size of the barrel is 500×500 mm.
The benefit of the industrial machine is that it has a higher capacity. It can polish large amounts of pieces at once.
The small machine, however, polishes small parts. For example, zippers, brass fittings, jewelry, etc.
8. What is the best way to polish aluminum using a magnetic polishing machine?
Polishing aluminum with this machine is not difficult at all.
First, you need to have the polishing media—stainless steel pins.
Next, select a chemical to go with the media.
The chemical cleans up dirty particles from the surface of the aluminum.
However, we classify aluminum as a soft metal. Stainless steel is quite strong. This means that you don't need to polish aluminum for very long.
If you lengthen the process more than what's necessary, the aluminum can damage. Stainless steel can cause damage if not used properly.
And lastly, dispose of the compound properly. Not doing so may result in environmental and health concerns.
Key Tip:
No not let your aluminum sit in stainless steel media for too long. This can result in damage to the aluminum.
9. How is the mirror finish achieved on stainless steel using a magnetic polishing machine?
Polishing stainless steel with steel is a bit tedious. This process requires a lot of time and patience.
A lot of metals are not shiny after the manufacturing process. They usually have scratches, burrs, and are often dull.
They have burrs because they are cut, ground together, and modified.
So, stainless steel requires much time to become smooth and shiny.
If you speed up the process, the metal will remain dull. As a result, you will have to polish it all over again.
Re-polishing is inefficient and adds an extra cost.
This is why you need to use a chemical when you polish steel. It will give it the shine it needs and will make the process more efficient.
We use stainless steel pins to polish steel parts.
Make sure that you check the capacity of your machine before using it. Also, set it at the correct speed.
You will achieve the best results if you are patient and follow all the rules properly.
Remember: not every stainless steel is magnetic. The one most suited for polishing is non-magnetic steel.
10. Can I remove scratches from gold using a magnetic polishing machine?
Yes, you can use a magnetic polishing machine to remove scrapes from gold.
The duration of the process depends on the number and intensity of the scratches. However, make sure that you are not leaving your gold in the machine for too long.
The machine removes faint scratches almost immediately.
It is crucial to use a compound in the process.
Soap is a good example of a compound. It is not corrosive and will not damage gold.
Note, this process is most suitable for gold jewelry.
11. What are the advantages of using a magnetic polishing machine?
There are so many advantages to a magnetic polishing machine.
Firstly, the machine is quite strong. It is also efficient and fast.
To add, it does not use much electricity. It also finishes products nicely.
Secondly, the machine comes in many sizes.
For example, you cannot use an industrial-sized machine for personal purposes.
Just like you cannot use a desktop-sized machine for large and heavy parts.
The sizes indicate the machine's purpose. It all depends on the reason for which you require one.
Thirdly, you can control the speed of the machine.
We measure the speed in the unit of rpm (revolutions per minute).
You can also control the speed very easily. It is simple to understand and use.
The magnetic polishing machine is relatively cheaper than other machines. It's also quieter than most mass finishing machines.
Lastly, the machine has an emergency switch. This way, you can turn it on or off.
You may also pause the machine.