The Leading Jewelry Polishing Machine Provider in China
Provides many solutions depending on the polishing that you need
The jewelry polishing machines are suitable for both dry and wet tumbling
Machinery comes in all sizes—industrial-sized or compact
Excellent design and machines that are cost-effective

Inovatec Machinery Get All Kinds of Mass Finishing Solutions from Inovatec
Inovatec Machinery has been manufacturing and designing equipment for the past 20 years. They have a solution for any of your polishing needs. Vibratory finishers, jewelry polishing machines, and desktop vibratory tumblers. You can find these and more at Inovatec Machinery.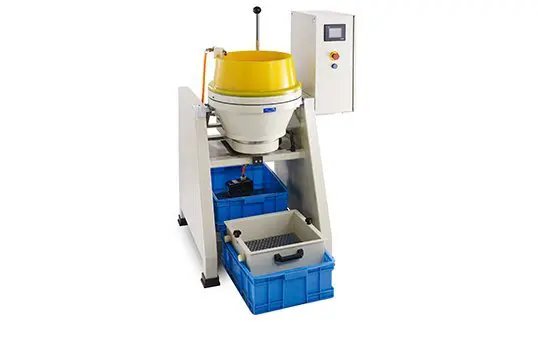 A Centrifugal Disk Finisher is made to polish medium to small-sized jewelry. They work with centrifugal force—hence the name. It has different compartments where you can put in different types of jewelry. Then, you can polish them at once.
These jewelry polishing machines can accommodate wet and dry finishing. Centrifugal machines have a unique motor, which is why they are faster than any other finishing machine. They are up to 30X faster than a vibratory machine!
Choose this machine if you want to polish small pieces of jewelry. However, if you have jewelry below 0.5mm, choose the Zero Gap CF machines by Inovatec instead.
This jewelry polishing machine is very suitable for small workplaces. Since they have compact tubs, you can place them anywhere you want. You'll get great results, and the machine won't take up much space!
If you want something closer to a cheap budget, this is the perfect option. The starting size is 10L, going up to 17L. If you want, you can order a bowl of your choice. It's flexible that way.
This machine is a severe jewelry polishing machine. You can do three types of polishing with this equipment. That is wet tumbling, dry tumbling, and magnetic tumbling. The best part about it is that it's also very cheap.
To add, you have the option to adjust the amount of power and frequency used by the machine. Your options are 110 or 220 volts, and 50 or 60Hz. When you purchase the machine, you will get sockets according to the options you've selected.
The magnetic tumbler is for intricate jewelry designs. Don't judge the bowl size! It's super small but also polishes your jewelry very well. However, it is not suitable for large amounts of jewelry, like other models. But you will be more than happy with the results.
This jewelry polishing machine cleans and polishes little nooks and corners in jewelry. It uses magnetic pins to do this. As complicated as it sounds, it takes very little time to finish! So, you can complete a lot of batches in a matter of hours. A typical cycle takes only 30 minutes to complete.
Media for Jewelry Polishing
In all of China, Inovatec Machinery has the biggest assortment of finishing media. Ceramic media is the best media for hard metals, such as titanium. It deburrs and polishes. However, plastic is the most common type of media. You may also want to use porcelain if that suits your purposes.

Inovatec Machinery – Professional Jewelry Polishing Solution Provider and Manufacturer
Magnetic tumbler machines allow for careful cleaning and polishing
Jewelry polishing uses many types of media—all of which are available at Inovatec Machinery
Jewelry polishing machines that are well-priced
Get a lifetime service warranty and a 2-year manufacturer warranty with your purchase
Frequently Asked Question
How many jewelry polishing machines can I buy?
You can buy just one or as many as you want.
When can I expect my order?
It depends on whether the item is in stock or not. When it is, you can expect to receive it within five days of your purchase. However, if it's not in stock, Inovatec Machinery can manufacture it in about fifteen days.
What are the payment terms?
Please pay a 30% advance payment to confirm your order. You can cover the rest before your item's out for shipment.
Is there a chance for my machine to get damaged?
No, you needn't worry that your machine will get damaged. Inovatec pays great attention to packaging your items. Thus, your items will deliver in the best condition.
Where do you ship the jewelry polishing machines?
Inovatec Machinery offers worldwide shipping. They do this through either the Shanghai, Yiwu, or Ningbo airport.

Jewelry Polishing Machine – Definitive Guide
For those who are interested in jewelry manufacturing, the following guide is helpful.
You will read about how to polish jewelry with a jewelry polishing machine.
To add, you will recognize the pros of using a machine to clean jewelry.
1. Why Polish Jewelry Parts?
There are many advantages to polishing jewelry:
1.1 For a Good Appearance
Jewelry is often bought for the way that it looks.
Polishing jewelry only makes it more beautiful and eye-catching.
1.2 To Smoothen the Surface
Smoothing a surface gets rid of sharp parts and edges.
And since it's jewelry, it's not desirable to have sharp edges in your jewelry.
Thus, smoothing a surface is very important.
1.3 Preparing the Surface for Coating
A lot of jewelry needs to be coated.
For this, the surface needs to be super smooth, and even before it is covered with a substance.
1.4 To Remove Oxide Layers
Many metals are prone to oxidation.
It is why manufactured jewelry may be coated with an oxide layer.
This layer can make the jewelry lose their shine.
It is why the layer of oxide needs polishing.
1.5 To Get the Desired Finish
The final result can depend on the type of jewelry.
Most jewelry pieces need to have a glossy finish.
Therefore, it's crucial to fulfill the requirements of the customers that acquire this jewelry.
It is why polishing is vital for the final product.
2. What is the Traditional Jewelry Polishing Process?
Most jewelry is polished on a rotating wheel.
This wheel is called a buffing wheel.
To polish the jewelry, we put it on different types of wheels.
Every wheel has a different abrasive material on the surface.
The wheels can do both wet and dry polishing.
In wet polishing, we cover the wheel with a chemical or even water.
Traditionally, we use only two wheels.
The first wheel comes with a bench. It does not move as it is stuck to it. We put the jewelry at the edge of the wheel for polishing.
The second wheel moves.
So, the wheel is moved on the surface of the jewelry.
3. What Use a Machine for Jewelry Polishing?
There are many differences between using a machine as compared to the traditional method:
3.1 It is the Cheapest Option
The traditional option requires a lot of laborers, machines, and tools.
The mass finishing process only needs one operator and one machine to do the job.
You only have to buy the machine once.
Also, you can reuse the tumbling media.
So, the mass finishing process is much cheaper in the long-term.
3.2 It Saves Time
You can put multiple pieces inside a  jewelry polishing machine in one go.
Even if the jewelry is sophisticated, it is separated by chambers or tubs.
As a result, you get more work done in less time.
3.3 The Final Product Looks Professional
Every jewelry part needs to look beautiful once it is polished.
A jewelry polishing machine gives you this result.
3.4 There is not Much Labor Required
The traditional method requires many people to work on polishing. It is very labor-intensive.
As a result, you will have a lot of laborers working on the jewelry to achieve your desired result.
But if you use a machine, you will need only one person. It takes a short amount of time to complete.
3.5 There is no Skill Needed
To polish jewelry by hand, you need skill.
If you don't have this skill, the final result will not look satisfactory.
Every laborer has their skill.
So consistency may be an issue, especially when you want many parts done in a batch.
When you use a jewelry polishing machine, you don't have to worry about a laborer's skills.
3.6 Ability to Batch Processes
All Inovatec machinery can complete multiple batches.
What this does is allow you to polish different types of jewelry in one machine, altogether.
As a result, the time it takes to complete the process is low.
3.7 Damage-Free Polishing Process
When you have expensive and precious jewelry, you don't want to damage it.
In jewelry, even little damages are hard to ignore, especially in a jewelry business.
Human errors can occur in manual jewelry polishing.
However, a machine does not do this. You will have damage-free jewelry if you use the right media for your process.
3.8 Low Maintenance Cost
Maintenance cost is a vital factor for every manufacturer.
Inovatec Machinery is low-maintenance. As such, you do not need additional tools to maintain it.
We do this using a standard tool kit.
Thus, the cost of maintenance is low.
4.  Typical Polishing Process Using a Jewelry Polishing Machine Explained
Jewelry is always made of either precious metals or stones.
Here is how we polish jewelry using a mass jewelry finishing machine:
4.1 Pre-Polishing Process
We remove any rough or sharp ridges on a manufactured jewelry piece during pre-polishing.
It is a wet polishing process.
In this process, we add the jewelry pieces with the media, water, and the chemical compound.
This process improves the surface of the jewelry.
The time it takes to do this process depends on the type of jewelry.
It is best to use the least abrasive media. Besides, using aggressive abrasives removes the product from the jewelry.
4.2 Polishing Process
Next, we have the polishing process.
We also call this the dry polishing process.
At the end of the process, the product will have a shiny surface.
This process makes use of tumbling media that has no abrasives at all.
So, by the end, you will have a piece of jewelry that looks as good as new.
4.3 Burnishing Process
Lastly, we have the burnishing process.
It is also a dry process.
Just like the previous step, we use non-abrasive media to burnish the materials.
As a result, you have shiny, smooth jewelry.
5. What are the Different Types of Machines for Polishing Jewelry Parts?
Inovatec Machinery offers many jewelry polishing machines.
The following is a list of the best machines:
5.1 Centrifugal Disk Finisher
The centrifugal disk finisher is best for small- to medium-sized jewelry.
It uses centrifugal force to function.
The machine has disks or dividers. This feature allows you to separate different jewelry pieces.
Notably, this jewelry polishing machine is Inovatec fastest. To add, it also does both wet and dry polishing.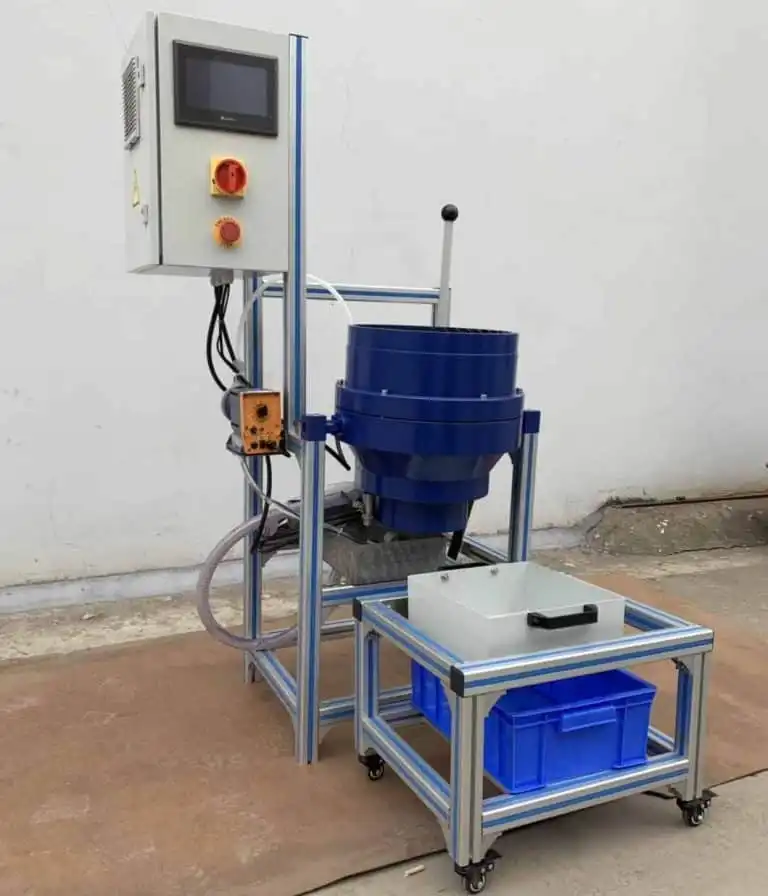 5.2 Desktop Vibratory Tumbler
The desktop vibratory tumbler is budget-friendly.
They are perfect for small workplaces.
Besides, this jewelry polishing tumbler comes in different sizes.
And lastly, you can order a custom bowl for the machine.
5.3 Eco Max 3-in-1 Barrel
This 3-in-1 machine is suitable for any jewelry business. Or for anyone who wants to polish many types of jewelry.
It comes with three barrels. These are for wet tumbling, dry tumbling, and magnetic tumbling.
As such, they are suitable for any of your polishing needs.
5.4 Magnetic Tumbler Machine
The magnetic tumbler polishes delicate jewelry.
It does this with the use of magnetic pins.
So, if you have intricate or complex jewelry, use this machine.
However, it has a small bowl and can only be used for small quantities.
On the plus side, it processes jewelry in only 30 minutes!
6. What Type of Tumbling Media to Use for Jewelry Polishing?
Tumbling media is very useful in polishing.
First, they are mixed with different abrasive materials.
Then, the tumbling media helps polish, cut, and clean products.
Inovatec Machinery suggests three types of tumbling media suitable for jewelry.
6.1 Plastic Tumbling Media
Plastic tumbling media uses polyester resin and abrasives.
This media is perfect for coating jewelry.
It also works best for soft metals, such as gold.
The plastic media smoothens a jewelry's surface.
However, plastic media does not give jewelry a glossy finish.
6.2 Ceramic Tumbling Media
Ceramic tumbling media is harsher. That's why it's suitable for hard metals.
Inovatec machinery has ceramic media with all kinds of cutting rates.
As a result, you can choose a media that matches the abrasive you want.
The ceramic media also has a longer life than plastic does.
Ceramic media also uses a lesser time to process.
6.3 Porcelain Tumbling Media
Use porcelain media to give your pieces a final coating.
Porcelain is non-abrasive.
It gives jewelry a high level of shine.
It is also used in both wet and dry polishing.
However, it gives better results in wet polishing.
Stainless steel casts jewelry.
Since steel media is high in gravity, it gives a high shine in only 10-30 minutes.
Also, stainless steel has a long shelf life. It never tarnishes or rusts.
To add, you can easily take care of it.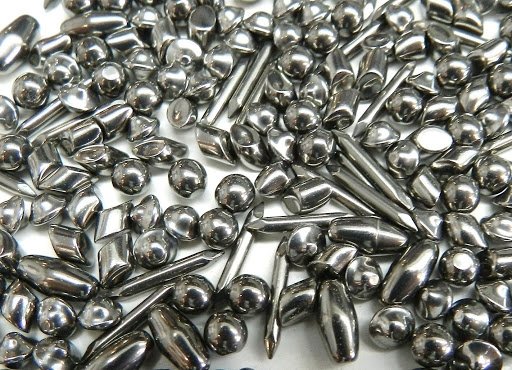 6.5 Walnut Shell Media
This natural alternative is used for dry polishing.
We use this with polishing paste to get the desired result.
As a result, they give a shiny finish in a centrifugal disc finisher or a centrifugal barrel finishing machine.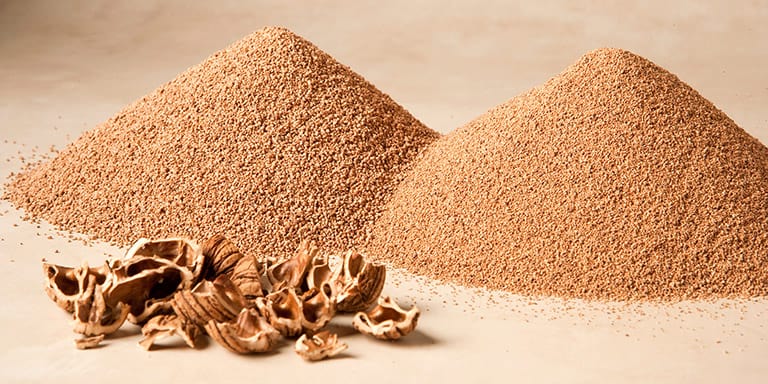 7. How does the Shape and Size of Tumbling Media Impact Jewelry Polishing?
Inovatec Machinery has all sizes and shapes of media. For example, cones, pyramids, discs, etc.
The shape of the media depends on the make of jewelry.
The first thing to consider is whether the media reaches all parts of the jewelry or not.
For more intricate jewelry, we use tristar- or pyramid-shaped media.
For even highly intricate jewelry, we use angle-cut media.
The size of the media should also be in the correct proportion to the jewelry. They need to be easy to separate.
We usually use small- and medium-size media to polish jewelry.
Big tumbling media would not properly polish jewelry pieces.
For intricate designs, the media is custom-made.
You can also order custom tumbling media from Inovatec Machinery.
8. What are the Different Types of Jewelry Supported for Polishing?
Inovatec Machinery supports all kinds of jewelry.
Refer to the following list:
8.1 Gold Jewelry Parts
Gold is the most common metal used for jewelry.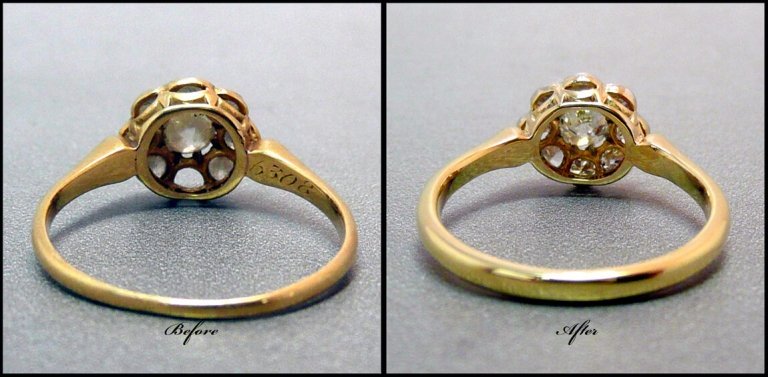 8.2 Silver Jewelry Parts
Silver comes a close second.
8.3 Titanium Jewelry Parts
Jewelry made of titanium is costly.
8.4 Pearl Jewels
Pearl is a natural jewel that we find in the water. It is also common in making jewelry.
8.5 Rings
Rings are jewelry that we wear on our fingers.
8.6 Bangles
Many materials make bangles. Some examples of these are gold, titanium, silver, etc.
8.7 Earrings
Earrings are very delicate and intricate. It makes them a bit challenging to polish.
8.8 Amber Pieces
Amber is also a natural substance. We mostly use them for decoration items.
9. What is the Role of Polishing Compound?
The chemical compound is vital in polishing jewelry.
For some pieces, we use it for both the preparation and final polishing stages.
The pre-polishing compound is soap-like. It removes individual particles from the jewelry.
We use the second polishing compound to create a layer on top of the piece. It prevents oxidation.
But why is the compound even used? This substance helps in the lubrication during a wet polishing process.
Conclusion
That is all you need to know about jewelry polishing.
To improve your jewelry business, you can purchase any of Inovatec's polishing machines.
However, make sure to buy the correct jewelry polishing machine and media for your purposes.
Inovatec Machinery ensures that you get the highest quality machine for the best price.