China's Top Quality Manufacturer and Supplier of Deburring Media
We have manufactured plastic media that are suitable for aluminium and brass parts
Our range of ceramic media is ideal for deburring stainless steel parts
Our manufactured silicon carbide media is used for magnets
We have designed our OEM media to your finishing satisfaction

Inovatec Machinery The Leading Manufacturer for Deburring Media in China
This media shape provides deburring of parts and is suitable for radiusing edges on parts.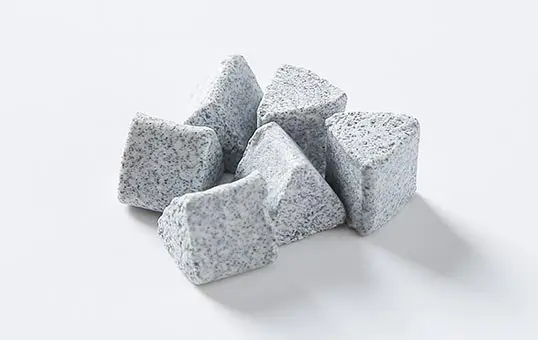 Straight cut finishing media is suitable for stone finishing and can be used on parts such as sandstone, granite stone, and marble stone.
This type of media is ideally used for parts that have areas that are difficult to come by. It's suitable for brass, rubber seals, and many more.
The cylinder straight cut finishing media is ideal for removing and smoothening edges on surfaces of parts.
Small and medium parts with little detailing works best with the tri-star angled cut media to produce satisfactory results.
The big size angled cut finishing media reduces the deburring process time because of its aggressive grinding application.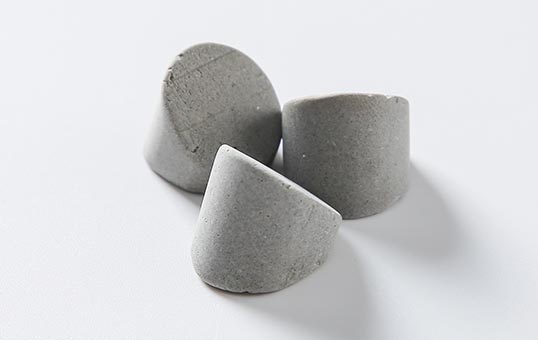 The wedge-shaped finishing media is ideal for improving the surfaces of parts without causing lodging issues.
This is a ceramic tumbling media and is commonly used for parts with slots and narrow edging.
The ball-shaped media is a ceramic tumbling that is suitable for parts with curved surfaces.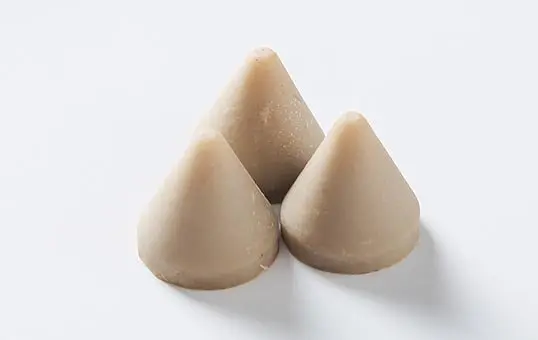 This plastic finishing media is suitable for smoothening part surfaces with minimal surface shine.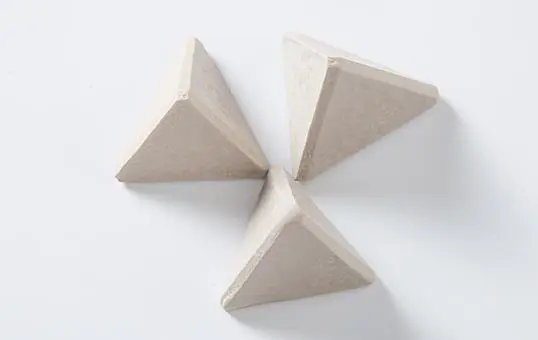 This media comes in the shape of a pyramid. The pyramid shape makes it easy for the media to get into corners and flat surfaces of parts.
The tri-star plastic media provides part surfaces with great finishes.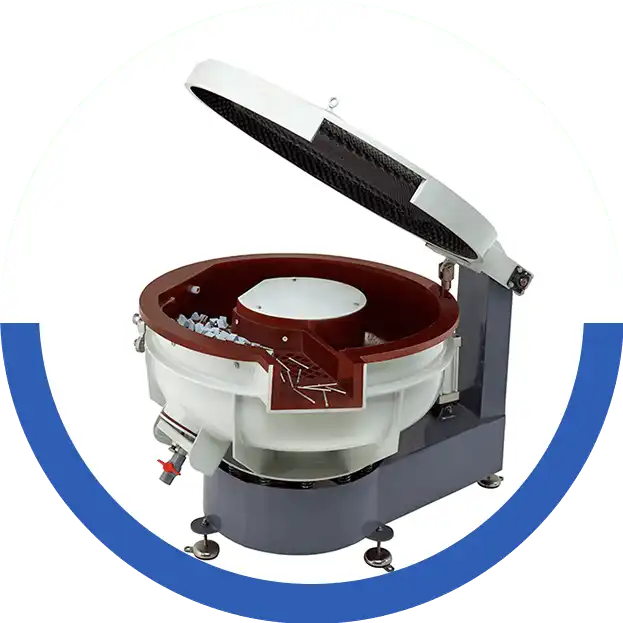 Mass Finishing Machine
Our range of finishing media is commonly used in industries such as automotive, aerospace, and many more. We offer finishing media that can be used for a variety of parts including 3D print parts, jewelry, and any more. Our mass finishing machines are designed with high quality materials and equipped with economical functions to give you the best results for your parts. As a leading manufacturer in deburring media, we guarantee consistent results to all our clients.

Inovatec Machinery – The Leading Supplier and Manufacturer for Deburring Media in China
We offer affordable deburring media
We only use high quality materials to make our deburring media to ensure stable performances
Deburring media comes in a variety of shapes and sizes for all your finishing needs
Our parts guarantee short lead times and fast turnaround times
Frequently Asked Question
What is the minimum ordering quantity for deburring media?
The MOQ for deburring media is 500kg for each type of media. This allows us to organize your production easily. This also ensures that you have enough media for testing and production.
How do you package deburring media?
We use two woven bags made of plastic. This helps in preventing possible leakage during transportation. We package each bag with 50lbs or 25kg worth of media, depending on the requirements of clients. We package our bags onto wooden trays with a maximum of 40 bags per tray. This makes transportation and moving of media easy.
What are your payment methods?
Upon confirmation of your order, we require a 30% of your total before we can begin with your production. Upon completion of your production batch, we will inform you and send you videos and photos for confirmation. If you are satisfied with the outcome of the production batch, you can either send your agent or come check it out yourself. If you are happy, we will require the 70% balance of your total before arranging shipment of your choice.
How long does a production batch for deburring media take to complete?
If you have placed a general order with us, production time usually takes between 15 and 20 days. However, if your production batch is made of smaller media, the time to complete this will be longer than 20 days.
Where is your nearest location?
Our nearest port is in Shanghai, Yiwu, and Ningbo. If you require shipping to a different location, we can arrange this according to your request.

Deburring Media Introduction
The deburring media comes in a variety of shapes and sizes including cones, wedges, balls, cylinders, triangles, pyramids, and many more. Each shape and size plays a role in application and finishing results.
When selecting the right deburring media for your parts, the above factors are important to consider to achieve the best results.
The function of deburring media is:
To remove burrs in a specific time frame
To remove burrs in hard-to-reach areas on part surfaces
To avoid causing lodging problems
To easily separate from metal parts
There are two commonly used deburring media including plastic media and ceramic media.
These media can be used in centrifugal finishing machines, vibratory finishing machines, rotary finishing machines, vibratory rock tumbler, parts tumbler and many more.
Deburring rock tumbling media is suitable for a variety of applications.
Below is a list of applications they are used for:
Ceramic media is ideal for hard metals including titanium, steel, and iron. It removes sharp edges on part surfaces, removal of rust, removal of burrs, rounding edges, removal of oxidation layers on parts, excess surface dirt, and much more.
Plastic media is suitable for deflashing and light deburring of brass, aluminium, and plastic parts. Also it is ideal tumbler media for brass.
Silicon carbide media is ideal for radiusing and deburring of magnets.
Inovatec has over 20 years of industry experience. As a CE certified supplier for deburring media, we have the best choices for your tumbling media and vibratory tumbers.
Get in touch with us today and one of our professional experts will assist you in selecting the right deburring media for your finishing needs.
Deburring Media FAQ Guide
1.  What does deburring media mean?
Deburring media is a type of media used for tumbling parts. It is used as a compounding agent to remove impurities on surfaces of parts to it can be used to improve part surfaces. There is a variety of uses including cleaning, deburring, polishing, shining, burnishing, and many more.
Deburring media is available in a variety of sizes and shapes to ensure the success of finishing results.
2.  What different types of deburring media are available?
There are different types of deburring media designed for different purposes. The most commonly used types include stainless steel, ceramic, natural, and plastic media.
Stainless steel media is suitable for hard metals as it provides robust finishing processes. Stainless steel media comes in different shapes and sizes to produce different types of finishes.
Ceramic media is the most used media in mass finishing processes. It's suitable for robust metals such as titanium and stainless steel parts.
Natural media is made up of natural materials including walnut shell media, corn cob media, and wooden materials. These are suitable for dry tumbling processes and light deburring processes.
Plastic media is used for polishing, smoothening, and burnishing metal parts. It is delicate in nature, making it ideal for parts such as brass, zinc, magnesium, and many more.
3.  How does deburring media work?
Deburring media is mostly used during deburring process that takes place in vibratory, rotary, and centrifugal finishing machines.
The deburring vibratory tumbler media helps in the removal of burrs, scales, oxidation, and rounding surfaces of parts.
4.  What is the lifespan of deburring media?
The lifespan of deburring media is entirely dependent on the type of material it's made of, the amount of deburring it endures, how often its' used and the abrasiveness thereof.
Generally, media can be recycled up to 20 times, depending on how well you maintain them.
Deburring media will have a shorter lifespan if the wrong size is used for the wrong application or if media is overused.
5.  What deburring media should be used for finishing applications?
Plastic finishing media is suitable for plastic and soft metals.
Ceramic finishing media is ideal for heavy deburring.
Natural finishing media is suitable for dry deburring processes.
For work pieces that are threaded, light deburring is required.
6.  Is ceramic deburring media efficient and effective?
Ceramic media is a generally used type of media. It is used in deburring tougher metals like steel. For this reason, the effectiveness and efficiency of ceramic media outweighs other types of media by far.
7.  Does the size and shape of deburring media matter?
Shape and size is an important factor when it comes to choosing the right deburring media.
Smaller media should be used for small parts, where larger media should be used for large parts. This will determine the results of finishing.
The various shapes will also play a major role in how well your parts are cleaned.
8.  What benefits does deburring media have?
Firstly, your parts are protected against any possible infringements.
Secondly, deburring media contributes to improving the entire surface of your parts.
Thirdly, your surfaces of parts are guaranteed to have satisfying results.
In addition to the above benefits, your parts also undergo an efficient process of deburring using deburring media.
Deburring media is designed to offer consistent abrasion to the surfaces of your parts.
Finally, your parts benefit from effective and efficient separation from each other.
9.  When is dry deburring media used for parts?
Dry media is designed to draw any moisture on surfaces of parts. Parts that require removal of water, oil, or any other lubricants from part surfaces make use of dry tumbling media.
10. When is wet deburring media used for parts?
Wet deburring media is usually used in wet conditions. Either a paste or powder is used as a compounding agent in polishing. Wet deburring media is commonly used for polishing finishing processes.
11. How do I choose deburring media?
Choosing the right deburring media will depend on the type of application and outcome you desire.
The shape, size, and angle of media are important factors to consider when choosing the right media. This will contribute to the desired outcome you want to achieve on part surfaces.
To find out more about what we have to offer for your finishing needs, get in touch today.