Top Quality Wheel Turning Machine Manufacturer from China

Inovatec Machinery "We offer the best quality wheel cleaning and refurbishing solutions to our customers."
The strict policy adopted by Inovatec machinery in the manufacturing process helps to provide top quality automotive wheel turning machines at an affordable rate. We offer different variants of wheel turning lathe machines. So, both small and big businesses can easily find machines that suit their wheel processing requirements. Different machines come with different features.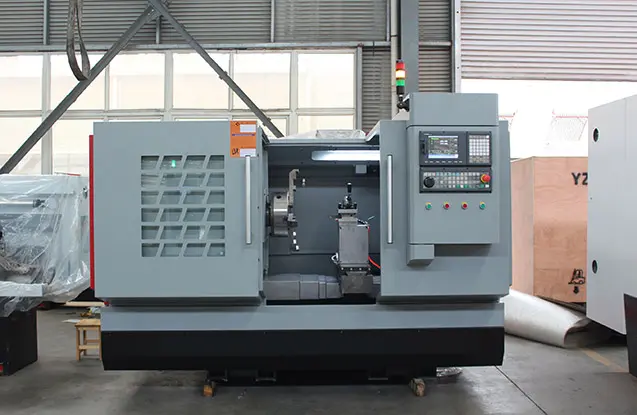 The powerful 7.5KW motor is the heart of this WRC28 wheel CNC lathe machine. This automotive wheel turning lathe machine is capable of refurbishing wheels at a faster rate. Thus, you can clean and polish more wheels at the same time. The simple operating instructions make this machine a user-friendly one.
The WRC28VM vertical diamond cut wheel turning machine s a good choice for aluminum wheels. If you are looking to achieve high accuracy and efficiency, then this machine is for you. High stability is achieved with the help of a strong cast iron base.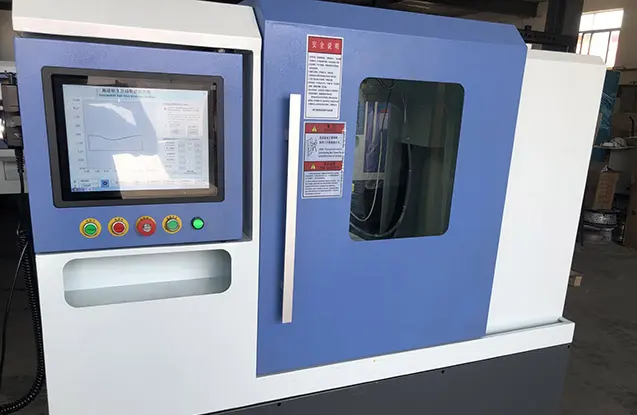 If you are looking for a CNC lathe machine that can repair 26 inch automotive alloy wheels, the YN-26 economic CNC lathe machine is for you. It comes with a computerized interface. The operator can easily operate this machine with the help of the simple instructions provided along with the machine. This machine will help to refurbish alloy wheels for a low cost.
The WRC30 wheel CNC lathe machine is one of the preferred choices of automotive wheel turning machines for many customers. It is possible to refurbish alloy wheels for a low cost using this machine. The solid cast iron base of the machine helps to ensure the stability of the machine during the wheel repair procedure.
Wheel Straightening Machine
The wheel straightening machine from Inovatec machinery is one of the best economical solutions for straightening wheels. High-quality raw materials along with top quality processes ensure the best machine quality. All types of wheel deformations can be easily fixed with the help of this machine. We offer different types of wheel straightener machines. Each of these machines comes with different features. So, you can choose any according to your requirements.

Inovatec Machinery – Best in Class Wheel Repair Machines Manufacturer & Supplier from China
Best After Sales Support for the Machines
Strict Quality process employed for Selection of Raw Materials
Technical support provided for the entire lifetime of the machine
Fast delivery of machines
Frequently Asked Question
What is your product lead time?
Our production lead time is 20-40 days depends on your project complexity. We will make an engineering CAD design according to your requirement and send you for confirmation.
What is your payment term?
Payment term suggests 30% payment in advance to start the project running. We will do 70% balance payment when the complete project is ready. For a special big project, we also do 60% before shipment and 10% when the machine arrives at your workshop. T/T payment is preferred. Besides, we also do LC.
What is your nearest port?
Our closest port is Shanghai, Ningbo and Yiwu Port.
Can I check the machine performance?
Yes, you can send one batch of your product and run in our machine before you make the balance payment. If you cannot come personally, you can appoint a third-party inspector to check the machine performance. We will take the video of the whole process and send you for evaluation.
What is your warranty term?
Our warranty term is 1 year from the date you receive the machine.

Definitive Guide for Wheel Turning Machine from Inovatec to Turn Your Locomotive Wheels
1.Inovatec Wheel Turning Machine to Refurbish Worn Locomotive Wheels
Wheel Turning Machine is also called a wheel CNC machine, wheel lathe machine, or alloy wheel diamond cutting machine.
Reconditioning your wheels is important especially if the mechanical integrity of your wheels does down due to excessive use. And a wheel turning machine is the best way to upkeep your wheels without having to replace them too often.
Wheel turning machines utilize wheel lathes to shape your wheels by rotating and other means to retain the original symmetry. And Inovatec has a few wheel-turning machines that could be the perfect addition to your workshop to recondition your wheels.
2.Why Do You Need a Wheel Turning Machine?
A wheel turning machine, also known as a wheel lathe, is used to refurbish wheels. It is a very versatile tool that is usually used to turn wheels from locomotives, trains, or railroad cars.
Turning the wheels of a locomotive adds more life to it and helps it last longer. When metro rail and train wheels are used for an excessive amount of time, they can get worn down. If a wheel remains worn for a duration of time, it can affect the wheel's hardness as well.
Wheel straightening machines can also be an added bonus to fixing deformities in your wheels. If you have alloy wheels, you can look at a few of the Inovatec Wheel Turning machines to help with turning your wheels and restoring them.
3.What is the Purpose of a Lathe in a Wheel Turning Machine?
Wheel turning is very important as it is much more cost-effective than replacing wheels once they get worn down. Wheel turning machines use lathe as an accessory to aid in turning wheels to restore them.
A lathe machine is similar to a shaping tool. It included multiple elements using different materials and turns to help restore the shape of your wheel.
The mechanism of a lathe machine is by turning. While turning, it restores the deformities of the object by cutting, sanding, and flattening. The wheel is gripped using a chuck and it is rotated over a cutting or sanding tool.
In order to use a lathe in a wheel turning machine, the operator needs to have precise control and accuracy over the machine.
4.How Many Types of Lathe are There and What are They?
Wheel lathes are an essential part of a wheel turning machine. The Inovatec wheel turning machines include multiple types of lathe accessories that aid in refurbishing wheels.
If your wheels have been worn down from excessive use and you need to re-profile them while they are still attached, underfloor lathe machines are the way to go. These machines are larger than the average wheel turning machine which makes them ideal for multiple uses.
There are also portable wheel lathes. These are more versatile in terms of use and can be carried around in multiple places.
If you want a wheel lathe machine for your workshop, you might want to opt for a portal or stationary wheel lathe. This is a fixed machine that can turn wheels once they are separated from vehicles in sets.
5.How Does the Turning Process Help to Repair a Damaged Alloy Wheel?
Depending on the material of the wheel, repair or restoration can cost quite a bit. But if you have your own wheel turning machine, you can save on a few unnecessary costs easily.
Inovatec has a wheel repair machine in the model YN-26 Economic CNC Lathe Machine for 26 inches wheels. As the name suggests, this machine can support a wheel up to 26 inches and it is suitable particularly for alloy wheels.
The machine is also automatic and comes with a computerized interface. That means this machine can be operated with minimal training and by just following the instruction manual.
If that doesn't sound like your cup of tea, you could also opt for the WRC30 Wheel CNC Lathe Machine. This is one of the more popular machines for automotive wheel turning. The machine has a solid cast iron base which ensures that it does not shake during the repair process.
6.What is the Step-By-Step Process of Using the Wheel Turning Machine?
Depending on the kind of lathe machine you're using, the process of operating the wheel turning machine might differ.
If you're using an underfloor lathe, you would not need to mount it. So, your wheels would be turned while still being attached to the vehicle. On the other hand, if you're using a portable wheel turning machine, it would depend on the type of wheels you're using.
But most commercial wheel turning machines would be the portal type. This are stationary lathe machines that can be fixed in a specific part of your workshop.
The process of using one of these machines is to first select the toolkit that matches your wheel needs. This will also depend on whether you want to cut or sand the wheel.
Next, you need to fix the location of the grooves and set the speed of the lathe. Afterwards, you need to mount your wheel and allow the machine to do its thing.
7.Is High Temperature Bad for the Wheel Turning Machine?
Wheel turning machines are all CNC and automatic now. While the lathe machine itself is a primitive invention, wheel turning machines nowadays have seen a lot of updates.
However, some design flaws are a part of the deal with wheel turning machines. Since this machine is similar to a rotary machine, it produces some heat when running. When working with a wheel turning machine, the ambient temperature of your workshop should be kept in mind.
Overheating of the machine and the cutting zone is likely to affect the final outcome of your wheel. But thankfully, the Inovatec wheel repair machines have a cooling system that brings down the temperature while the machine is no longer in use.
8.What Are the Benefits of Using a Wheel Turning Machine?
Locomotive alloy wheels need to be refurbished in order to make them last longer. And in order to do this, most workshops employ the use of wheel turning machines.
A wheel turning machine can bring the cost of refurbishing locomotive wheels to a much more reasonable production cost. Rather than using manual labor to turn wheels, a lathe can do it much faster and more efficiently.
So, these machines also end up bringing the overall efficiency of production up as well. It is also much safer for the employees in a workshop for the process to occur automatically
9.Are There Any Disadvantages of Using a Turning Machine?
The advantages of using a wheel turning machine definitely outweigh the disadvantages. However, a wheel turning machine has a few restrictions as well.
The turning process is limited to parts that are rotational. So, there may still be deformities in certain other parts. And while a wheel turning machine brings down the production cost overall, the one-time cost of the machine itself can be very high.