Top Quality Wheel Lathe Machine Manufacturer base in China
Highly Economical Wheel refurbishing solutions
Top Quality Wheel Vibratory Finishing
Best quality raw materials used for production

Inovatec Machinery "Offers different types of wheel cleaning and repairing machines to suit all types of businesses."
Inovatec machinery provides a complete solution for all your wheel cleaning, straightening, and polishing requirements. We offer different verities of CNC wheel lathe machines with different features. We provide both high-end as well as low end solutions for cleaning and repairing wheels. Our solutions are used in many small and large wheel cleaning and refurbishing businesses.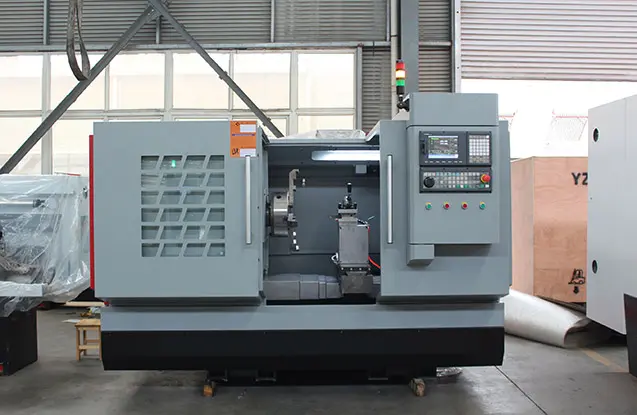 The WRC28 CNC surface wheel lathe machine is known for its efficiency and performance. It comes with an automatic spindle speed control. The maximum alloy wheel size supported by this machine is 28 inches. The cast iron base of this machine helps to provide a stable base for the wheel repair process.
If you are specifically looking for a vertical diamond cut wheel turning lathe machine, the WRC28VM from Inovatec machinery is a good choice. The high-frequency hardening used in this machine helps to achieve a higher stability and accuracy for the wheel refurbishing process. It supports a maximum cutting speed of 1000 mm/min.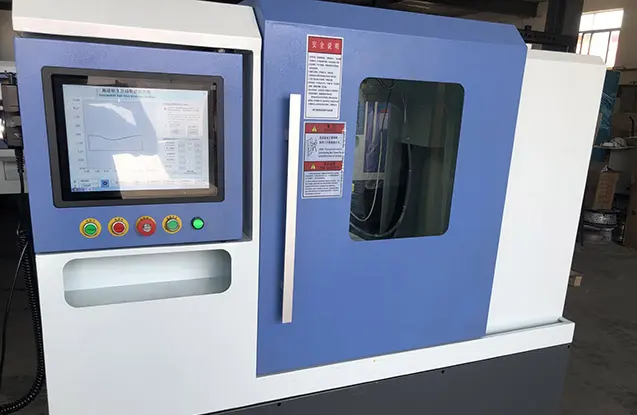 The YN-26 model CNC lather machine is designed for alloy wheels of 26 inch size. It is a highly economical wheel cleaning and refurbishing solution. It is an easy to use wheel CNC lathe machine. It comes with a 6 KW motor.
If you are looking to reduce the overall cost of refurbishing alloy wheels, the WRC 30 wheel CNC lathe machine is for you. The fast processing time of this wheel repair lathe machine help to refurbish more alloy wheels at the same time. It is possible to repair wheels up to 30 inches in size using the WRC30 model machine.
Wheel Straightening Machine
If you are looking for a top quality wheel straightener machine, then you can always choose the machine from Inovatec machinery. High quality cast iron is used in the manufacturing of the wheel straightener machine. It is an easy-to-use and low-maintenance machine. You can use it to fix all kinds of dents in the wheel within half an hour.

Inovatec Machinery – High Quality Wheel Lathe Machine Supplier & Manufacturer from China
Good Technical support for the machine
Fast delivery of wheel lathe machines
Machine manufactured under the guidance of Experienced Engineers
Provides complete wheel repair solution
Frequently Asked Question
What is your product lead time?
Our production lead time is 20-40 days depends on your project complexity. We will make an engineering CAD design according to your requirement and send you for confirmation.
What is your payment term?
Payment term suggests 30% payment in advance to start the project running. We will do 70% balance payment when the complete project is ready. For a special big project, we also do 60% before shipment and 10% when the machine arrives at your workshop. T/T payment is preferred. Besides, we also do LC.
What is your nearest port?
Our closest port is Shanghai, Ningbo and Yiwu Port.
Can I check the machine performance?
Yes, you can send one batch of your product and run in our machine before you make the balance payment. If you cannot come personally, you can appoint a third-party inspector to check the machine performance. We will take the video of the whole process and send you for evaluation.
What is your warranty term?
Our warranty term is 1 year from the date you receive the machine.

Definitive Guide for Affordable Wheel Lathe Machine from Inovatec
1.Repair your Wheels for a Longer Lifespan with Inovatec's Wheel Lathe Machine
Wheel lathe machine also called as wheel CNC machine, wheel turning machine or alloy wheel diamond cutting machine.
Wheels are an essential component of a vehicle if you want to keep it moving. You always want to have your wheels in the best possible condition. That's why you need to take them for regular repairs.
If you want the best repair for your wheels while maintaining affordability, then Invoatec's wheel lathe machine is perfect for you. Inovatec combines great engineering with a higher production quality to deliver the best service to you.
Today we look at the different wheel lathe machines available at Inovatec. We're going to look at the what, the why, and the how of the wheel lathe machine. Without any further ado, let's begin.
2.What is a Wheel Lathe Machine and What Is It Used for?
A wheel lathe machine is a device that's used to repair damage to the wheels and clean them in the process. There are different models of wheels available in the market. Wheel lathe machines can work with these wheels.
Alloy wheels are cast which makes it possible to achieve complex designs. The designs are one of its selling points. Alloy wheels are really attractive, this is why many car owners prefer to get them over stock wheels. It really brings a pop to your car which makes it look even better.
But as resistant as they are to wear and tear, eventually, alloy wheels also suffer from damage. In times like that, you need to get them repaired as soon as possible to ensure further longevity. We recommend Inovatec's wheel lathe machine to get the best results.
3.How Does the Wheel Lathe Machine Operate on the Wheels?
Operating the wheel lathe machine from Inovatec is really easy. With very little training anyone can do it. To start operating the machine, the first thing to do is to clean the wheel. The wheel needs to be wiped clean of any loose dirt or stain. Once that's done, it's ready to be set on the machine.
You need to set the wheel on the Chuck of the wheel lathe machine. The wheel has to be secured tightly. When you're confident that the wheel has been set properly, you can go ahead and start the machine.
In some of the models, you can even control the time the machine will run for. If you have one of those, you can input those commands in and let the machine work its magic.
4.Are the Materials Used in Manufacturing the Wheel Lathe Machine Tested?
One of the reasons why the wheel lathe machine is so good is because of its production quality. The machines are made from the highest quality materials. All raw materials are tested and used in production only after they pass the quality check. If it's quality you're worried about, then you can be sure that Inovatec won't disappoint you.
5.What Sizes of Wheels Can the Wheel Lathe Machine from Inovatec Support?
Using Inovatec's wheel lathe machine you can clean and repair wheels of practically any size. The machine supports the lathe's 24, 26, 28, and even 30 inches wheels. The ability to repair and clean wheels of multiple sizes is what makes Inovatec wheel lathe machines so versatile.
6.Can the Machine Operate Automatically Without an Operator?
It is possible to operate the machine manually if you want. It's very easy to use the machine and anyone can do it with little training. But the manual operation is not mandatory if you get the customizable GSK system.
If you have the GSK system with your machine then using the machine will be a piece of cake. All you need to do is set the parameters on the control panel and you're good to go.
The automated GSK system is running on a Windows 7 operating system. So, anyone should be able to find their way around the machine controls. We recommend getting this as an add-on as it saves you the time and effort needed to operate the wheel lathe machine manually.
7.Will I Get a Smooth Finish on My Wheels If I Use the Wheel Lathe Machine?
Once you clean or repair your wheels on the wheel lathe machine from Inovatec, prepare to be amazed. The quality of the finish on the final product will leave you awestruck. The wheels are going to look as good as new.
And it's not just you that will have a jaw-dropping reaction. Anyone who takes one look at your wheels will be left wondering whether the wheels are new or not. That's just how good Inovatec's wheel lathe machine is for cleaning your machine.
8.Is There a Built-in Cooling System for the Machine?
As the repairs go on, the machine starts to heat up from all the friction. That is why it's important to keep the machine cool in order to have it performing at full capacity. It's also necessary to protect the surface of the wheel from any damage.
There isn't a built-in cooler for the machine. But you can get it as an add-on. The cooling system will cool the heat that's generated on the surface of the wheel to keep it cool resulting in a smoother finish.
9.Will I Get Technical Support with My Wheel Lathe Machine?
For all the machines at Inovatec, you will receive free technical support. The machines come with a 1-year warranty. This means that any repairs that need to be taken care of within 1 year of purchasing will be done free of cost.
And if you need repairs after 1 year, all you need to do is contact the support team with your problem. After they assess the nature of your problem and then provide technical assistance. If you are in need of a technician, the company will send one for you.
10.Is There Any Way to Test the Machine Out before It Is Shipped?
If you want to check out the performance of the machine, there's an option to do that as well. Inovatec requires you to send a product from your batch. But you need to do this before completing the payment.
If you're unable to send a product to be tested, you can appoint someone else to check the machine for you. Inovatec wants to be transparent with all of its customers hence the entire inspection process will be filmed and you'll receive a copy of it for evaluation.