| | |
| --- | --- |
| Power range | 100-240V |
| Frequency | 50/60HZ |
| Temperature range in use | -10 +50 |
| Gun weight: | 500g |
| Rated output voltage | 24VDC |
| Maximum output voltage | 0-100KV ( adjustable) |
| Maximum powder injection | 600g/min |
| Polarity | negative (-) |
| Maximum input-air pressure | 10kg/cm |
| Optimum input-air pressure | 6kg/cm |
| Maximum compressed-air consumption | 13.2 m3/h |

X1-TB Mini Powder Coating Equipment
This package comes with a digital display and control unit, a powder coating gun. The powder coating gun has an ergonomic handle that helps you apply powder coat like a pro. It also has a modern nozzle that sprays the powder coat exceptionally well with no powder coat wastage.
The X1-TB powder coating equipment also comes with a two-pound hopper that feeds the gun with powder during the powder coating application. This powder coating equipment is ideal for powder coating hobbyists, small scale powder coating, powder testing, etc.
X1 Mini Powder Coating Digital Control Unit
This digital control unit is packed with lots of features that will benefit you. Check them out:
The control unit comes with three pre-configured programs – coating on flat surfaces, coating on hard-to-reach corners and reapplication of powder coats. You'll need only to choose one option when powder coating your surfaces.
Apart from the pre-configured programs, you can add unique settings that will positively impact how you powder coat your parts' surfaces.
A user-friendly interface makes it possible to easily set the machine on the powder coating mode that you want.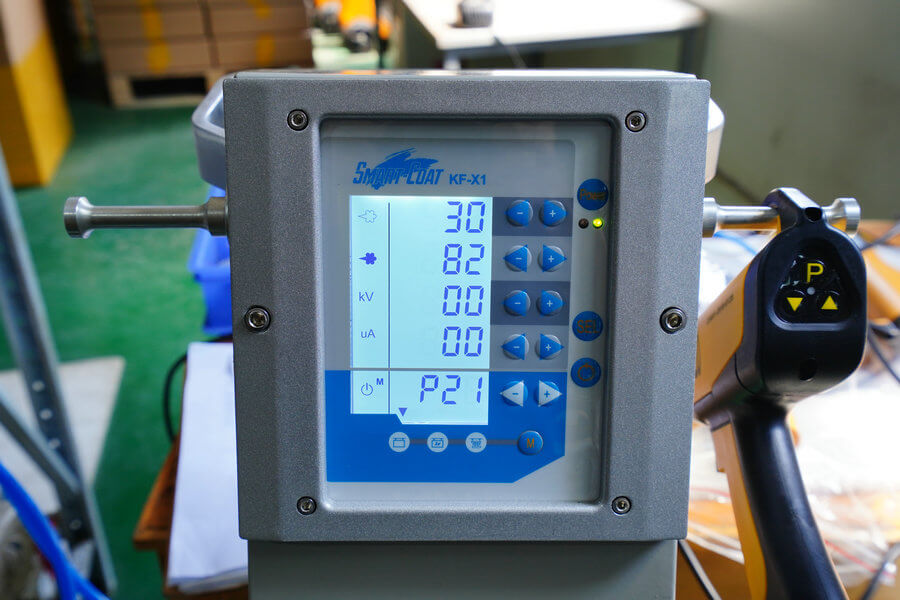 KL-08 Electrostatic Spray Gun
This spray gun is one of the most effective and efficient across the globe. The KL-08 electrostatic spray gun modern nozzle ensures that 99.9% of your powder coats your metal parts.
The spray gun is also super easy to set and use. You'll press "P" to shift through powder spraying modes. The spray gun also has scrolling buttons (up and down) to help you adjust the rate of powder that flows out of the spray gun during powder coat application.
Why the X1-TB Mini Powder Coating Equipment Stands Out
There are many powder coating equipment across the globe. However, here is some top reason why you need to choose the X1-TB mini powder coating equipment:
The equipment comes with a digital control unit that has a super easy user interface. This user interface enables you to set and navigate powder coating options quickly.
The digital control units come with three pre-configured programs that help you apply powder coats on different surfaces. You can set the pre-configured settings to use the best powder coats on flat surfaces, hard-to-reach corners, and when recoating surfaces.
This powder coating equipment is not rigid – you can add more powder coating settings (up to 20) that meet your own unique needs.
Performance and efficiency packed under one piece of equipment – this machine powder coats your parts' surfaces quickly with no powder wastage.