| | |
| --- | --- |
| Power range | 100-240V |
| Frequency | 50/60HZ |
| The temperature range in use | -10 +50 |
| Gun weight: | 500g |
| Rated output voltage | 24VDC |
| Maximum output voltage | 0-100KV ( adjustable) |
| Maximum powder injection | 600g/min |
| Polarity | negative (-) |
| Maximum input-air pressure | 10kg/cm |
| Optimum input-air pressure | 6kg/cm |
| Maximum compressed-air consumption | 13.2 m3/h |

X1 Box Feed Powder Coating System with 2 Hopper
X1 series professional powder coating machine combines Digital Valve Control and 100kv High Voltage Static technologies, delivering excellent quality finish with the highest transfer efficiency. A clear and easy-to-use interface makes it easy for every user to handle even the most complex work parts.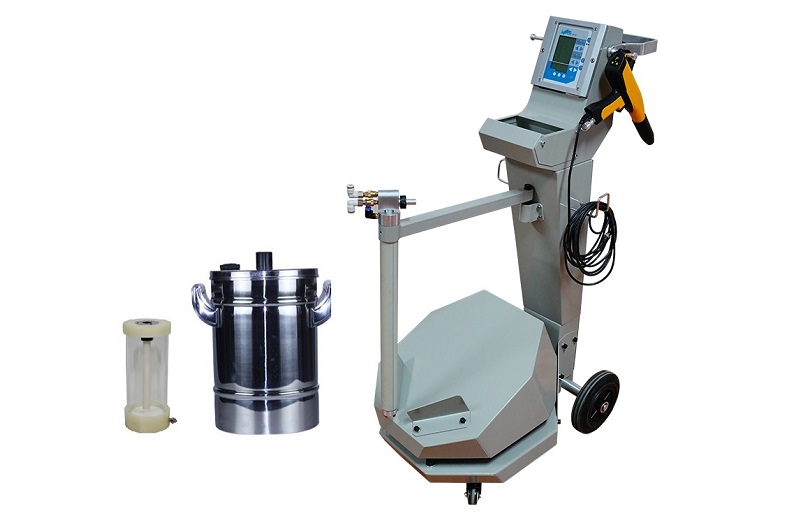 X1 Box Feed Powder Coating Equipment – Enhanced Powder Coating Equipment
The X1 box feed powder coating equipment delivers an excellent finish. It has a digital control unit with an amperage of 100kV. The digital control unit has a beautiful and clean user interface that is easy to use.
This powder coating equipment powder coats exceptionally well while employing maximum efficiency. It is able to handle dynamic and complex powder coating scenarios.
2 in 1 Powder Coating Equipment
This powder coating equipment is ideal for multi-color usage. It allows you to change colors rapidly by using a box feed powder coating system design. You can directly change colors – it'll not affect the look of the final output.