Powder Gun
Rated output voltage
24VDC
Cascade input voltage
12V
Maximum output current
180Ua(max)
Maximum output voltage
0-100KV ( adjustable)
Maximum powder injection
600g/min
Polarity
Polarity
Gun weight
500G
Electrical Data
Power range
220V/110V
Frequency
50HZ /60HZ
The temperature range in use
-10 ℃+50 ℃
Pneumatic Data
Maximum input-air pressure
10kg/cm2
Maximum input-air pressure
6kg/cm2
Minimum input-air pressure
4kg/cm2
Maximum water vapor content or compressed air
1.4g/N m3
The maximum oil vapor content of compressed air
0.1ppm

KL-660-V Box Feed Powder Coating Equipment
The KL-660-V box feed powder coating equipment is a great machine that offers you a rapid color-changing capability. You can change color by simply changing the powder box with different colors. Fluidizing happens by using a vibrating motor.
It does so while still ensuring that the final output is flawless. This powder coating equipment has the fundamental features that any powder coater may require, especially in terms of performance, efficiency, and stability during the powder coating application.
Inovatec Machinery will supply this machine to you at a friendly price. Contact us today for more information on the shipment.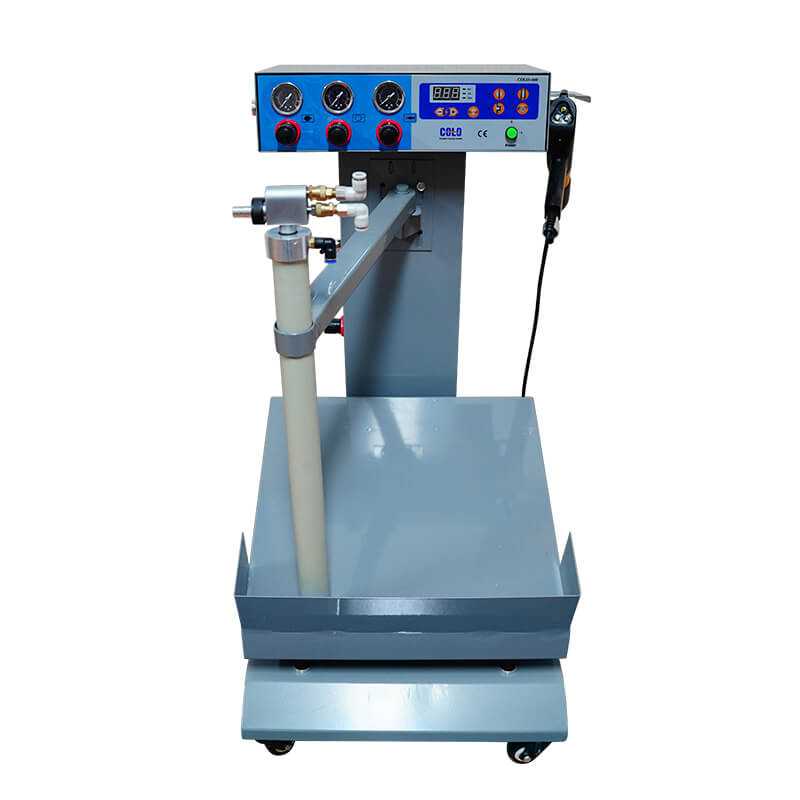 KL-660-V Box Feed Powder Coating Equipment Features:
An adjustable amperage that ranges from 0 – 100kV. It helps you maintain efficiency.
Beat that Faraday Cage Effect problem by using this machine. It employs the latest cutting-edge pulse technology by cutting power off and on.
The KL-660-V box feed powder coating equipment comes with three preconfigured powder coating application settings. These settings help you achieve a better finish. They include settings for flat surfaces, hard-to-reach corners, and recoating surfaces.
You can also adjust the airflow for a sleek finish.
An excellent spray gun that uses 100kV to spray powder on your parts. It has a wonderfully ergonomic handle that helps you complete powder coating quickly.
The machine is mobile. Therefore, you can move around with it in your workshop.
Outstanding Features of Electrostatic Powder Painting Equipment
The machine uses minimal powder during powder coating application, thus enhancing efficiency.
A beautiful, user-friendly interface that lets you operate the machine efficiently.
Cutting-edge pulse technology that helps you beat Faraday Cage Effect.
Control unit
Back of control unit

Electrostatic Powder Painting Equipment Working Principles
The powder is sucked up to the spray gun from the powder hopper by using the powder hose. The powder is then fluidized in the fluidizing chamber, which mixes powder and air.
Upon reaching the spray gun's nozzle, the fluidized powder is electrostatically charged. This charge enhances maximum efficiency by ensuring 99.9% of the powder is transferred to the surface you are powder coating.
You can control the air that enables the fluidizing process to occur by using the control unit. When air blows, it is forced to go through a porous plastic plate. That is how the powder is fluidized.
Related Powder Coating Equipment