Electrical data
Power Range
220V/110V
Frequency
50HZ/60HZ
The temperature range in use
-10 ℃+50 ℃
Powder Gun
Gun Weight
500G
Rated output voltage
24VDC
Input Voltage
– 200kv
Maximum output current
180Ua(max
Maximum output voltage
0-100KV (adjustable)
Maximum powder injection
600g/min
Polarity
negative (-)
Pneumatic Data
Maximum input-air pressure
10kg/cm
Optimum input-air pressure
6kg/cm
Minimum input-air pressure
4kg/cm
The maximum oil vapor content of compressed air
1.4g/N m3
Maximum compressed-air consumption
13.2 m3/h

Quick KL Change Powder Coating Equipment
Digital intelligent powder coating equipment, box feed type for the quick color change, the suction tube directly conveyor the powder from original powder box to the spray gun, which does not need clean hoppers. Suitable for the customer who has many powder colors to use.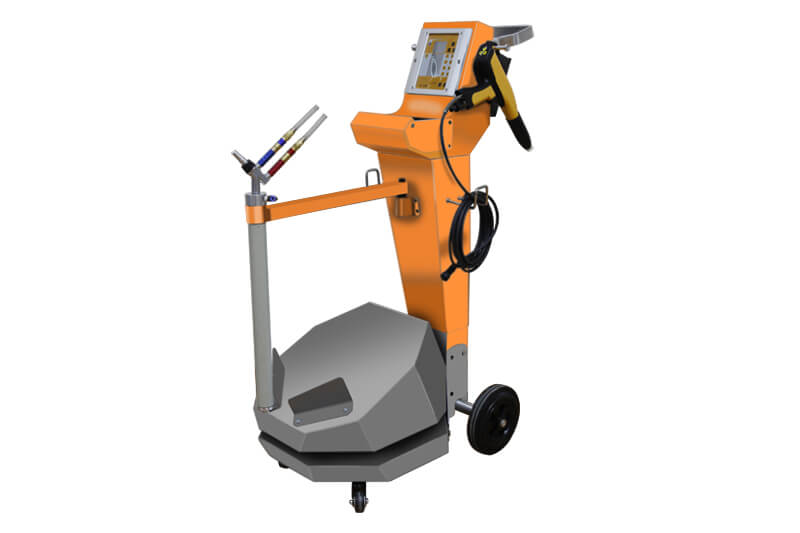 KL-191S-V Powder Coating Gun Controller Features
1. Applying the worlds' advanced technology, offers accurate powder output controlled by a digital valve, a more uniform and quality finish.
2. 0-100kv voltage adjustable as well as current adjustable, offers great flexibility for setting data.
3. Superior performance, easy to penetrate complex parts and corners.
4. Digital control of airflow technology, better atomization.
5. Standard 3 pre-set modes of flat-coating, corner-coating, re-coating, easy to use for beginners.
6. Allows users to create and store 20 different application programs, each part can be coated ideal with its optimal setting.
KL-08 Manual Spray Gun Features
1. Remote control of changing powder flow and application program on the back cover, fast and easy.
2. KL patented manual spray gun is ergonomically designed to reduce operators' fatigue during long time use.
3. Built-in 100kv cascade to maximize the electrostatic charging, provides high transfer efficiency, and saves materials
4. Comes with a full array of nozzle assortment to optimize your spray effect, including flat and round spray nozzles with different size deflectors.
Related Powder Coating Equipment