KL-191S New Manual coating systems Technical parameter
| | |
| --- | --- |
| Power range | 100-240V |
| Frequency | 50/60HZ |
| Temperature range in use | -10 +50 |
| Gun weight: | 500g |
| Rated output voltage | 24VDC |
| Maximum output voltage | 0-100KV ( adjustable) |
| Maximum powder injection | 600g/min |
| Polarity | negative (-) |
| Maximum input-air pressure | 10kg/cm |
| Optimum input-air pressure | 6kg/cm |
| Maximum compressed-air consumption | 13.2 m3/h |

Inovatec Machinery 2-in-1 Manual Powder Coating System Highlights
Get the best coating results with the all-new manual powder coating system. It is a perfect blend of two unique coating systems – box feed and hopper feed model powder gun. Besides the terrific setup, it is simple to use an industry-grade machine perfect for handling various types and sizes of coating jobs.
2-in-1 Box feed model and Hopper powder coating gun.
Manages various kinds and sizes of jobs efficiently.
Whether you need to coat machine parts or metallic ones or are conscious about those deep corners left or flatwork, this manual powder coating system is perfect.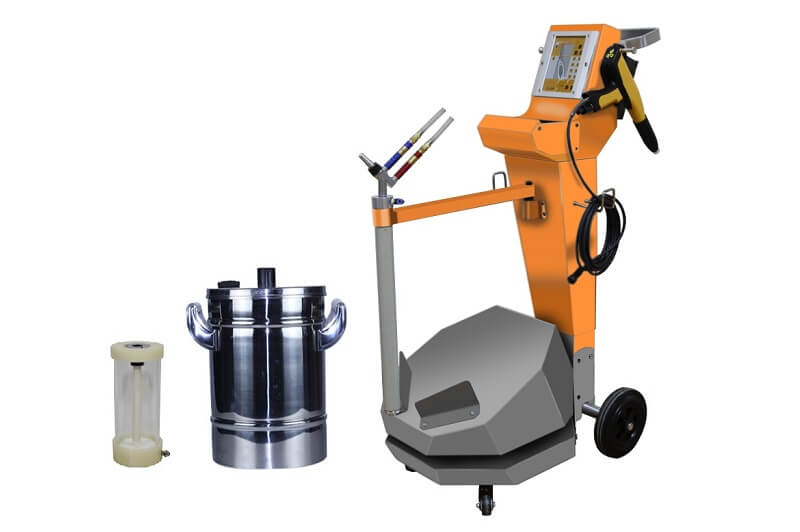 Inovatec Machinery KL-191S New Manual Coating Systems Features
If you are a beginner in the coating industry, this KL-191S Manual coating system is convenient to operate. It provides three major application programs that are preinstalled for re-coating, flat parts, and particles.
●      Additional 3 Pre-Set Programs
Like any other coating system, this KL-191S manual coating system can store up to 20 coating programs that can be operated using the control unit. However, three preset programs come with this particular coating system that takes up to various coating tasks of different sizes simultaneously.
●     User-friendly Interface
For a rookie, a manual coating system is an optimal option.  With an easy-to-operate system, every user can manage these machines and work proficiently.
●     Instant Powder & Program Changes
Switching between the programs and changing powder settings is exceptionally convenient with this manual powder coating system. All you need to do is press the button "P" to switch between coating modes. In addition, you can easily adjust the powder flow by moving the handle up and down.
●     Comes With Three-Free Hoppers
Inovatec Machinery 2-in-1 Manual coating system comes with two hoppers and 1 powder cup that can help you manage different sizes and types of jobs. One hopper is 2litre in size, perfect for quick jobs involving metallics, rims, and more. Another one is 10litre stainless steel which is great for bigger jobs and can hold 5-7 liter coating powder.
What Inside Inovatec Machinery Manual Coating System Package?
Manual guide for quick assemble (In English)
KL-191S coating system
Controller, connectors & cables.
2 Litre Mini-Hopper
10 Litre Stainless Steel Hopper