Powder Recycling System Specifications

| | |
| --- | --- |
| Model | KL-3000-R |
| Input voltage | 220-380V |
| Power | 90W |
| Operating frequency | 50HZ |
| Motor rotation | positive and the reverse can be |
| Motor speed | 1500rpm |
| Hopper Size | 60x60cm |
| Hopper Capacity | 80 to 100kgs powder coatings |

High-end & Efficient Automatic Powder Recycling System
Automatic Powder Recycling System
The automatic powder recycling system collects, filters, mixes, and recycles powder for constant feeding, which is essential in an automatic coating plant. It is highly efficient in mixing the recovery powders with the fresh ones. It does that without interrupting the online coating process. All in all, it significantly reduces labor costs while also getting rid of waste.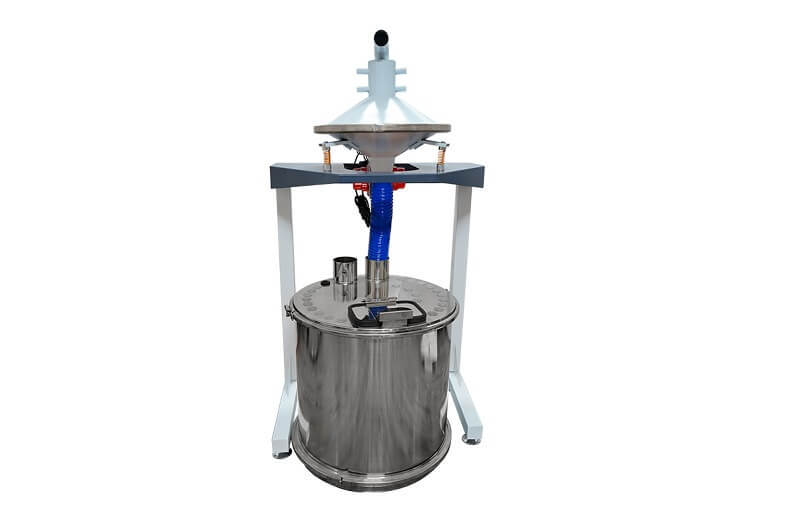 Powder Recycling System Features
Installs sieving mesh with hoop and sealing strip
It gets rid of the noise and also prevents leakage
You can apply many in-detailed specifications to the mesh for facilitating the screening of particles of all sizes
Mounted with a powder hopper of humongous capacity
The hopper supports constant production with a maximum of 16 pieces of spray guns for production
All the powder feedings are filtered and diffused, thus, ensuring the continuous and smooth flow
It also provides purity at a very high level while delivering the surface finish with impeccable quality
Automatic Powder Recycling System
On line to collect, filter, mix and recycle powder for continuous feeding in an automatic coating plant. High efficiency to mix recovery powder with fresh powders without disturbing your online coating process, substantially reduce labor cost & eliminate wastage.
Environment-friendly Automatic Reciprocating Powder Coating System Automatic Powder Coating System
The automatic powder coating system is specifically designed to cater to serial production needs in powder coating lines to make automated operations reliable and trustworthy. It is equipped with a control cabinet with a powder painting reciprocator. Also, the processes are pretty easy to handle, and the high-security doubles as the best advantage for users.
Advantages
The constant powder coating not only improves efficiency but also increases the quality of the application
Powder consumption is drastically reduced
It ensures that the utilization of painting materials is maximum
The combination of the conveyor and booth system plays a vital role in the fantastic performance of the automatic production line
The installed quantity and the type of control units can meet your needs
Inovatec KL-191S-A Automatic Powder Gun Unit Highlights
The KL-191S Automatic powder coating gun lets you configure the parameter settings with high precision, including air, voltage, current, and power output
The unit can centrally control all values, and it will read it on the touch screen LCD
It lets users save the settings individually, all based on the variety of different programs
The settings are pretty straightforward for operation and repeat processes.
The controller allows an adequate amount of powder delivery, which results in perfect quality.
Inovatec KL-2200D PLC Controlled Powder Coating Reciprocator Highlights
Adjustable frequency motor ensures precise motion for faster and consistent powder coating.
Its pre-programmable settings option allows seamless job change with stroke and speeds automatic selection.
It has an advanced digital controller with a touch screen that is user friendly and will also help control the stroke length and control speed
The adjustable counterbalance weights offer absolutely balanced gun movement.
Carries a maximum of 12 piece spray guns