Refine Your Pearls' Surfaces Easily with Inovatec Machinery Equipment
Polish your pearls with world-class high-energy machines from Inovatec
Polish all sorts of pearls with these equipment – freshwater, yellow south sea pearls, Akoya cultured pearls, etc.
High-quality polishing equipment
Customizable polishing machines to fit your needs.

Inovatec MachineryGet Your High-Quality Polishing Equipment from the Leading Supplier in China and Around the World
Pearls are exceptionally beautiful. Now imagine how rewarding it can be to enhance their beauty using affordable mass finishing machines. Awesome!
Inovatec Machinery's machines are designed to ensure that you get the best finish on your pearls' surfaces.
Why should you trust Inovatec Machinery's word?
We have been in business successfully for over two decades – we manufacture and supply mass finishing equipment.
We also offer finishing advice to you whenever you need it. You can simply contact us through our website, and we'll get back to you within 24 hours.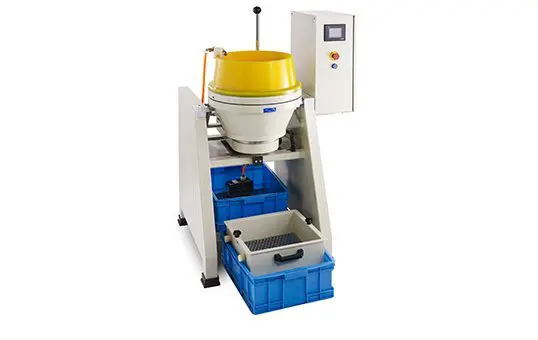 Polishing pearls has never been so easy! You can now refine the surfaces of your pearls rapidly using the centrifugal disc finishing machine.
This machine has a strong motor, which ensures that polishing is completed rapidly. Renowned jewelry makers like the Hong Kong Pearl Jewelry Makers appreciate the services of this machine.
Like the centrifugal disc finishing machine, the centrifugal barrel finishing machine is a high-energy polishing machine.
You can use this machine to rapidly refine the surfaces of your pearls. The machine is ideal for both polishing and burnishing.
Pearl Polishing Media
Ruining your pearls' surfaces is not an option. You have to select the correct tumbling media for the same process. Different types of pearls require different kinds of media, according.
You can always contact Inovatec Machinery through our website for more about the appropriate polishing media for your pearls.

Inovatec Machinery – The Leading Manufacturer of Pearl Polishing Equipment
World-class pearl polishing machines
Customizable machines to suit your needs
Newly manufactured (non-recycled) finishing equipment
Our machines are designed with optional settings to suit your needs
Frequently Asked Question
Which is the Ideal Machine for Pearl Polishing?
There are two primary machines that you can use to polish your pearls. You can use either the centrifugal disc finishing machine or the centrifugal barrel finishing machine.
Both machines are under the high-energy finishing machines category.
Why Should I Trust Inovatec Machinery's Equipment?
Inovatec Machinery is experienced in the finishing industry. We have been in business for over two decades now. We have worked with renowned jewelry manufacturing companies in Hong Kong and Japan.
Which is the Ideal Pearl Polishing Media to Use?
Pearl polishing is not the most straightforward task in the mass finishing industry. As such, Inovatec cannot advise you on which media to use until we know what you are dealing with.
You can kindly reach us through our website. We'll respond as soon as possible regarding this issue.
How Should I Make Payments to Inovatec when Buying a Machine?
Since we manufacture our machines for you, you can pay 30% upfront. Later on, you can complete the remaining 70% before we ship the machine over to you.
How Can I Get a High-Quality Pearl Polishing Machine?
You can acquire the best machines and equipment from Inovatec Machinery.

Modern Pearl Polishing – The Ultimate Guide
Have you ever held a pearl in your hands? How was the feeling? Well, it goes without say, pearls possess outstanding beauty.
The pearls which you find beautiful usually have some enhancements done on their surfaces. One of the primary improvements done to their surfaces is polishing them. Pearl polishing is what this article will focus on – how to polish your pearls like a pro.
Keep reading this article to find out more.
1.   What is Pearl Polishing?
Pearl polishing is simply the process of refining the surfaces of your pearls.
Check this out:
Pearls occur naturally. They come in different shapes and sizes. Polishing your pearls rapidly, effectively, and efficiently involves the use of mass finishing equipment. Polishing gets rid of the undesired materials that your pearls may have on their surfaces.
You can still polish your pearls manually – however, this process will take a lot of time to complete. Also, achieving a uniform finish may be somewhat challenging.
The popularly used polishing media is organic media – walnut shell grit and corn cob grit. They are not highly aggressive, but they'll get the job done.
It is always wise to consult experts first before using any polishing media. Different types of pearls may require special finishing media.
You can polish your pearls using two primary mass polishing machines. The first machine is the centrifugal disc finishing machine.
The second mass finishing machine is the centrifugal barrel finishing machine.
There are many benefits of using these machines, as you'll find out later in this article.
2.   How Can I Polish My Pearls Using Mass Finishing Machines?
As you've read earlier on, there are two primary high-energy polishing machines that you can use. The first machine is the centrifugal disc finishing machine.
It has a finishing container with a disc at the bottom. This disc is what spins at incredibly high speeds to generate centrifugal forces necessary for finishing your pearls. It is also reliable and fast because of its robust motor.
The second high-energy machine is the centrifugal barrel finishing machine. The centrifugal barrel finishing machine has four polishing barrels which are fixed on one flywheel.
These barrels also spin at an incredibly high speed as well as the flywheel. However, the barrels and the wheel rotate in opposite directions. It is a design aimed at enhancing the generation of centrifugal forces.
The use of organic polishing media is also essential. You should always use the correct polishing media to avoid damaging your pearls.
3.   What are the Different Types of Pearls that I Can Polish?
There are six different types of pearls whose polishing enhances their looks. Check them out:
●      Akoya Cultured Pearls
Akoya cultured pearls come from Akoya oysters. They are usually shiny and appealing. They are spherical – but they come in different sizes, the largest one being 9.5mm.
●      Freshwater Pearls
As its name suggests, freshwater pearls come from freshwater mussels. They are usually white. The largest size recorded is 15mm.
●      South Sea and Saltwater Pearls
These two types of pearls are closely related. They are costly and come in two colors: white and gold.
The largest size of these types of pearls is 20mm.
Other pearls include Tahitian cultured black pearls and pink natural pearls.
4.   How Can I Polish Expensive Pearls Safely?
Polishing expensive pearls will require you to use the centrifugal barrel polishing machine. Its polishing design ensures that it finishes safely, rapidly, efficiently, and effectively.
The machine uses centrifugal forces to polish rapidly and effectively while still maintaining polishing safety.
It is an excellent machine.
5.   Does Pearl Polishing Require High Precision Polishing?
Yes. Pearl polishing requires high precision polishing to curb damages. A single mistake can render your highly-priced pearls damaged.
It is imperative to have your pearls precision-polished.
6.   Is it Costly to Buy a Pearl Polishing Machine?
Well, the cost of acquiring your machine depends on some key variable features. For example, will your machine have a big finishing capacity? Will it have any custom features?
Once you get to know your machine's full specifications, you'll get to determine the price.
You can always contact Inovatec Machinery for product specification prices. You can write to us via our online web form, tell us what you want and how you'd like it. We'll send you a free quote on the same.
7.   Which Pearl Polishing Machine is Better – Centrifugal Barrel Finishing Machine or Centrifugal Disc Finishing Machine?
Now, the two machines are exemplary in executing their primary task – polishing your pearls. You cannot explicitly state that one machine is better than the other. It primarily depends on their usage.
However, a centrifugal barrel finishing machine is suitable for high-end pearls, which can quickly get damaged. However, that does not make it a better machine than the centrifugal disc finishing machine.
If you are confused about which one to buy for polishing your pearls, you can simply contact us today. We'll help you out – we'll advise you on how to handle the case like a pro.
8.   How Long Does the Pearl Polishing Process Take?
The process should not take long – a few hours, if not several minutes. High-energy machines are very fast in polishing.
They are way faster than other mass finishing machines – the vibratory tumbler machine and the rotary barrel tumbler.
9.   How is Inovatec Machinery's After-Sale on Pearl Polishing Machines?
Inovatec has an excellent after-sale service to all its customers. That is one of the reasons we have been in business for over two decades now.
Apart from being available for you, we provide owners' manuals that come with your particular machine. These manuals should act as guides to help you install and run the machine.
However, if you are not satisfied, you can contact us through our website's contact us page. We'll help you out on whatever you need to be done.
You may require spare parts for your machine. We can have that shipped over to you for free if the machine is within its warranty period.
If it has exceeded the warranty period, we can still ship the spare part to you at the standard selling price.
Since our company is international, you can get genuine parts from local stores.
10. Does the Pearl Polishing Process Require A Lot of Manual Labor?
No. These machines do not require a lot of manual labor. The only labor required is checking how the process is going on and perhaps altering it a bit to enhance your pearls' final look.
Experts estimate that using machines to polish pearls reduces manual labor up to 95%.
On the other hand, manual polishing is highly labor-intensive. It has a rate of 80% labor-intensive. This means that it takes longer to complete the process, and the final output will not be as good as you'd expect.
Bottom lines:
Using high-energy polishing machines for your pearls is the ideal way of handling the pearl polishing process.
11. How Does Polishing Media Affect the Pearl Polishing Process?
Using the correct polishing media will have a 100% positive effect on your pearls' surfaces. However, using the wrong media will render your pearls damaged.
To get the right polishing media for your pearls, you need to consider two primary factors:
What type of pearls are you polishing – it will help you determine the finishing media's type.
The size of your target pearls will help you determine the correct size of the polishing media you need.
You should strive to ensure that you use the correct polishing media and the recommended polishing machine.