Vibratory finishing is an industrial process where materials get a finished look.
The ultimate material finishing goals can vary: better wear resistance, electrical conductivity, brightness, corrosion resistance, paintability, bond to rubber, chemical resistance, harness, and so on.
Vibratory finishing techniques are popular, cost-effective, and less labor-intensive.
Applications of vibratory finishing
Vibratory finishing is a mechanical/chemical process usually done on a large scale.
Vibratory finishing machines are universally acclaimed mass finishing machines used for a wide range of workpieces and surface finishing objectives.
Metallic components that have undergone the previous machining can make use of vibratory processes, and it is also applicable for non-metallic.
Parts Drilling before vibratory finishing
Vibratory finishing is excellent at removing grease and dirt from components after machining.
Where a vibratory finishing machine usually ranks is while deburring and creating isotropic surface finishes on, for example, a burr leftover from a drilling process.
Burrs are highly undesirable in industries and being able to remove them using an automated process — such as vibratory finishing — is highly advantageous.
A well-tuned process can get your component a highly desirable high-gloss finish.
More applications range from intensive deburring and edge radiusing all the way to mirror image polishing.
In other words, from aggressive grinding to pre-plate surface finishes.
Descaling, reducing the edges, polishing, and rust removal are other applications of the vibratory finishing process.
A great everyday example where vibratory finishing helps is your cutlery polishing: knife, fork, and spoon.
It isn't good to eat with a rough-surfaced spoon.
The solution?
Your metal cutlery undergoes smoothening with the help of vibratory finishing.
Cutlery vibratory polishing
The process
Workpieces are components that require finishing.
Media in a bowl that vibrates are mixed with the workpieces to achieve the finish.
The process is simple: the media aids in getting the desired finish of the workpieces.
There may be a supply line that will add a compound to your media.
| | |
| --- | --- |
| Media to Parts Ratio | Normal Commercial Application |
| 0:1 | No media. Used for beating off burrs |
| 1:1 | Equals volumes of media and parts. Forgings and castings produce crude and rough surface |
| 2:1 | More gentle, more separation, but still allows relative severe part-on-part damage |
| 3:1 | about minimum for non-ferrous parts, Considerable part contact. Fair to good for ferrous metals |
| 4:1 | Probably average for non-ferrous parts, Good  for ferrous metals |
| 5:1 | Good for non-ferrous metals, Minimal part-to-part contact |
| 6:1 | Very good for non-ferrous parts, Common for pre-plate on zinc with plastic media |
| 8:1 | For higher quality pre-plate finishes |
| 10:1 to 20:1 | Even better. Used for very irregular shaped, fragile parts |
| infinite | Absolutely no part-to-part contact. One part per machine or compartment or the part is fixed |
The compound is typically water and detergent, or water and degreaser.
You can add in rust inhibitors, or some additional polishing compound as well.
Media as a crucial agent for material finishing
The media functions as an abrasive agent to remove unwanted material from the parts.
It also acts as a cushioning for rapidly moving parts by serving as a carrier for compounds such as water.
Choosing the right tumbling media accounts for proper mass finishing.
The workpieces determine the shape, size, and performance characteristics of the media that must be selected for the job.
Water and compound are essential ingredients, not only for cleaning and passivating, but also pickling of the workpieces.
They also help maintain the abrasiveness of the media.
The industry use variety of media.
Ceramic Tumbling Media
The usual media used in vibratory finishing are steel, ceramic, and plastic.
Sometimes, you have to choose the media by trial and error method.
The finishing machine provider can also help.
For example, general finishing uses ceramic media, finishing metal parts, plastic, and even organic media (walnut shells and corn cob) when required to use steel media.
Mixed pellets of media are also common such as stones, river stones, and tiles.
The next step is to choose the right shape and size of the media as this prevents workpieces from lodging and helps in easy separation.
Usually, the media sizes are significantly smaller than workpieces.
This way, finished material separation is easy.
If workpieces are much smaller than media, inverse separation can be a bit of a hassle.
It will leave your bowl rougher if you choose bigger size media that are cheaper, cut faster, and have a longer life.
Striking a balance between media size and bowl longevity is essential.
The Vibration & Finishing
Typically, the bowl of a vibratory finishing machine sits on springs, with a motor on the underside.
The vibratory finishing process involves basic kinematics (motion of objects) and components in the system.
Components include bowls that have different sizes — 1/3 meter to over 1 meter, depending on the application.
To the container's underside, we have a motor that has an offset mass attached to it.
The bowl sits on reasonably stiff springs.
The deburring process takes on a steady-state flow trajectory when the motor is on; It entrains the workpieces.
The Oscillating Movement
The relative motion between the media and the workpieces causes the deburring on the surfaces of the workpieces to happen.
The oscillating movement of the processing bowl created by the vibratory drive system causes constant rubbing between the workpieces and the media.
Oscillating movement leads to the removal of material, especially from the workpiece edges.
The smoothing or cleaning process makes the bowl undergo the following kinematics: as soon as you turn on the motor, because of the offset mass present at the bottom, it sets up vibrations within the bowl.
The bowl induces the media to go into a steady-state flow pattern, and the workpieces become entrained within the media.
The relative motion between them is what removes material and gives you the desired isotropic surface finish.
The quantity and setting of the imbalance weights on the vibratory motor control the characteristic vibratory motion of the processing bowl.
Pushing and holding a dedicated button changes the motor's rotational direction.
When the button is released, the motor changes its rotational direction back allowing the mix of media.
The vibratory motor speed is controllable, and it ranges anywhere between 900 and 3600 cycles per minute.
Amplitude is the maximum extent of vibration and it ranges from 0 to 5 mm.
Types of vibratory finishing equipment
Inovatec Machinery has a full range of mass finishing machines and vibratory finishing media for your choice. You can download our catalog for more information.
1. Curved Wall Design without separator
VB(A) vibratory finishing machine:
Used in high-polishing processes.
Ideally Suitable for the burnishing process.
Suitable for Stainless Steel balls, zirconia ball,s and porcelain media
2. Straight Wall Design without separator
VB(B) vibratory finishing machine:
Simplest machine construction and economical to use with the bowl straight-wall design.
3. Straight Wall Design with separator
VBS(B) vibratory finishing machine:
Suitable for finishing thousands of smaller parts with a deck outlet that separates batch-processed finished pieces into the next equipment in the automated industry.
100% separation of media and parts
Process capacities ranging from 3.5 to 40 cubic feet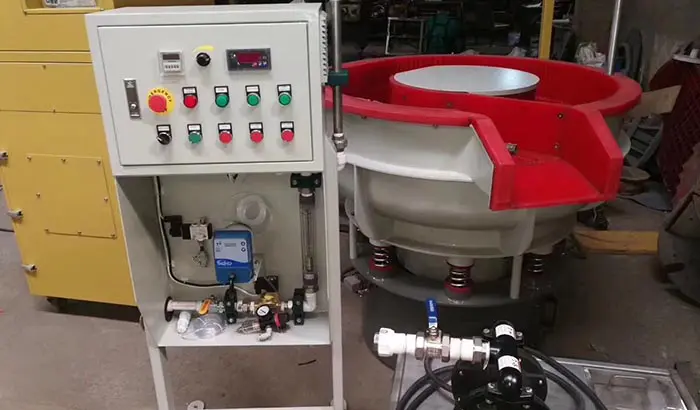 4. Curved Wall Design with separator
VBS(A) vibratory finishing machine:
The bowl has a curved-wall design
Shorter processing time and better performance than a straight-wall design
Heavy-duty welded steel bowl, innovative cartridge drive system
5. Vibratory Dryer German Design
This is used along with a vibratory finishing machine where workpieces fall directly into the dryer.
6. Longitudinal Continuous Feed-though Vibratory Finishing System
Longitudinal Continuous Feed-though Vibratory Finishing System:
High production deburring or descaling
Available in 8-192 cubic foot capacity
15-20 minutes of processing time
Can be integrated with parts washer or conveyor dryer
Choosing vibratory finishing equipment
When you purchase equipment, it is recommended to consider not only suits your needs but also someone who meets all statutory industry standards.
Customization plays a crucial role.
It would be best if you looked out for these usual customization options: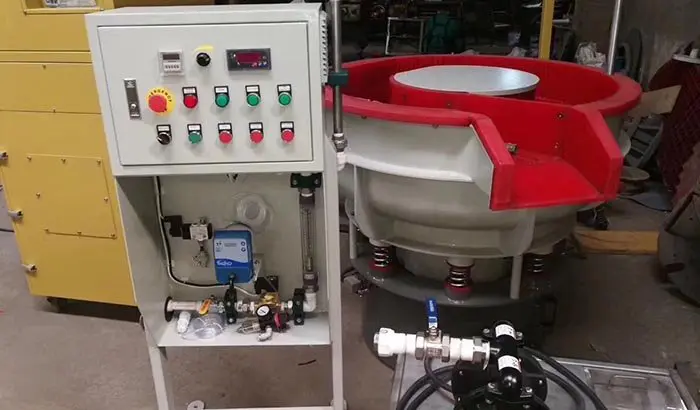 Vibratory Finishing Equipment with Separation
When electronic parts are involved, is not the best option to choose an expensive and intricate machine.
Mass finishing is a simple process, and the machine needs to be as simple as possible to avoid malfunctioning.
It's important that you look out for equipment that is ISO or CE certified.
Running vibratory finishing equipment
3-phase electricity: 380V, 460V, or 480V is best for running vibratory finishing equipment because it is safe and grounded. First-time users are advised to take the help of expert electricians.
Conclusion
Vibratory finishing is a simple process but needs a thorough understanding.
Many considerations come into play.
A personal investigation into vibratory finishing equipment can save a lot of time and resources in your journey down the line.